Desigual forsees revenue of 550 million euros
Desigual is pulling out all stops. After recently launching its first shoe line and taking part for the first time at the Mode City trade show, the Spanish brand is accelerating its growth and foresees a total revenue of 550 million euros for the current fiscal year, against 440 million in 2010 and only 86 in 2007.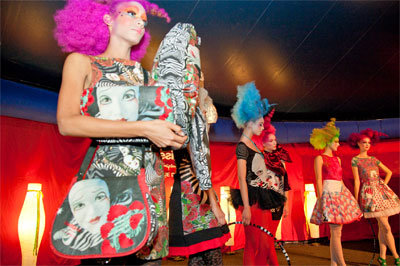 Desigual and Cirque du Soleil sign a 5-year partnership
"We expect to open around 60 to 70 stores in Europe this year, which should take the amount of sales made internationally up to 75% of the total", commented Manel Adell, CEO of Desigual. The brand's expansion projects include store openings in key shopping areas in Europe (London's Oxford Street and Königsallee in Düsseldorf) as well as overseas, such as Osaka in Japan and Moscou and Saint Petersburg in Russia. As for its store network in the United States, which currently only consists of about half a dozen units, it should also be expanding with the arrival of new Vice President of North America Regional Sales, Segundo Broggi, who previously worked for several years at Puig.
Over the last few seasons, Desigual saw numerous innovations. The latest one, presented at Bread & Butter, was its collaboration with Cirque du Soleil. The Canadian entertainment company, specialised in circus acts, has allowed Desigual inside its colourful universe as a source of inspiration. "We have signed a worldwide clothing license for an initial duration of 5 years. In total, we are going to present around 170 pieces, mainly for women, but the collection will keep growing", said Manel Adell. His goal is to develop and establish the new line, which will be known as "Desigual inspired by Cirque du Soleil".
As part of it expansion strategy, the Spanish brand has also just built a new Barcelona head office of 20,000 square metres. "In two years, the number of employees will go from 650 to 1,000 people", the CEO concluded.
Copyright © 2022 FashionNetwork.com All rights reserved.