Designers defy gloom, fight crisis at Milan shows
By Marie-Louise Gumuchian
MILAN (Reuters) - Milan fashion week may have begun under an economic cloud due to the global financial turmoil but designers showing off their creations have sought to defy the gloomy mood, with some declaring "war" on the crisis.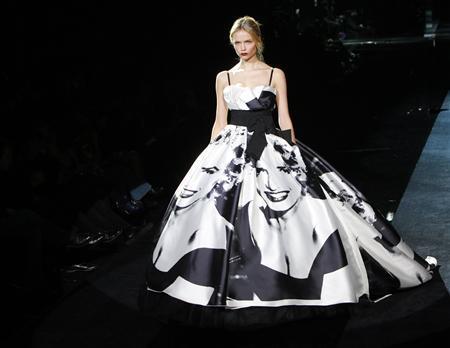 Roberto Cavalli, who counts the Spice Girls as fans, took a somewhat aggressive approach for next winter's womenswear, presenting "armor" mini-dresses and skirts covered in studs.
He paired them with voluminous fur coats and long skin-tight suede boots, that were zipped at the back and had steel heels.
"You need to attack in order to win. I have declared war on the crisis," Cavalli said. "I am an optimist."
Luxury brands have not been spared by the global economic turmoil and the sector has been hit by growing evidence of restrained spending even among the super-rich.
Italy's clothing and textiles industry is calling for government help, warning of risks facing the sector as the crisis sweeps into demand for clothes and accessories. The government is to unveil a first series of support measures by mid-March.
In a sign of the times, more brands have opted for presentations this Autumn/Winter 2009/2010 fashion week, cutting costs from doing runway shows. There are about 10 less catwalk shows this year, according to the National Chamber of Fashion.
Bottega Veneta Creative Director Tomas Maier said he looked to glamour to lift the somber mood.
Dresses in soft colors such as muted browns, creams, grape and lilac dominated. He chose a rectangular silhouette, with designs pulled in at the chest or waist. He also added jewelry to his creations -- gold, silver and rhinestones.
"I think with the times we are in, it's kind of depressing, I think basic won't do it for me. If women want anything, they want something that is beautiful, glamorous and that takes them out of that day-to-day mood," Maier told Reuters.
Other designers such as Giorgio Armani and duo Domenico Dolce and Stefano Gabbana also added sparkles in their lines.
MORE TIMELESS PIECES SOUGHT
Italian designer Anna Molinari also chose a glamorous look, dressing models in knit short stretch dresses in animal prints, topped with cashmere, tuxedo jackets and masculine-cut coats.
For the evening, she showed short sparkling dresses or strapless or one-shouldered yellow, blue and pink gowns, which had flowing chiffon skirts slit at the thigh. She used diamante jewelry heavily -- as bracelets, earrings and necklaces.
"These colors give a strong and aggressive image to the show," Molinari told Reuters. "(The line) gives an image of happiness, optimism that we all need and to make people dream of maximum elegance but minimal spending. We need to keep going."
Burberry Prorsum themed its line "Modern Nostalgia" with taupe suede trenches over cotton simple white dresses, over the knee black chiffon and tweed skirts. There were also satin soft golden dresses worn with a black jacket and grey tights.
"I wanted the romance of history but I also wanted it to be very much about today, the moment we're going through today," Creative Director Christoper Bailey told Reuters.
"I think our role is also to inspire, I think it's also to give back confidence, and I think it's also to stick with your DNA and really to have your own point of view."
He said consumers were now looking for more timeless pieces.
"I think the philosophy (of throwaway fashion) is maybe changing a little bit, it's about an investment piece that you have for a long time," he said.
Marigay McKee, fashion director at London luxury store Harrods echoed this. "I think people are being a little bit more cautious, a little more conservative and they're buying more stable pieces or investment pieces or heritage pieces."
Ken Downing, fashion director at U.S. department store chain Neiman Marcus, said consumers were still keen for new designs.
"We all know the financial situation, it's not a secret and it's not necessarily a new story. But we have to remember that we all have stores and there are still customers who are shopping," he told Reuters.
"They might not be shopping as robustly as they have been in the past, but customers who love fashion continue to love fashion, economic crisis or not, and we're out looking for really the best of the best."
(Editing by Paul Casciato)
© Thomson Reuters 2023 All rights reserved.