Designers defy crisis with glamorous new stores
By Marie-Louise Gumuchian
MILAN (Reuters) - There may be a crisis that is forcing many companies to cut costs but that's not stopping top fashion designers from opening glossy new stores.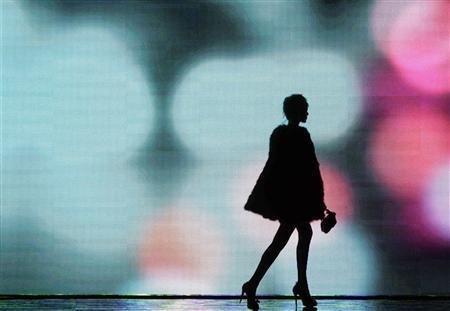 With locations in New York, Paris and Milan, the big names seem to be undeterred by the economic turmoil.
Known for his luxury sportswear for men, Belgian designer Dirk Bikkembergs unveiled his first flagship store in Milan on Thursday -- a three-level space that doubles up as a local footballer's apartment.
Footballer Andrea Vasa will live in the luxury surroundings that include a living room downstairs -- complete with leather sofa, TV and decorated with family pictures -- and a bedroom, gym, and bathroom in an upstairs private area above a kitchen.
The store, which sells Dikkembergs' menswear collections as well as travel bags, sunglasses and sport shoes, also has a spot for Vasa's Porsche -- he can drive it in though a massive window that doubles as a garage door.
"This is my lifetime achievement," Bikkembergs said at the store in Milan's exclusive Golden Quad area. "(The opening) was for when my heart was ready and my wallet was fine."
Going from "less to more to very expensive" designs, the shop also has trophy cup sinks in the bathrooms, as well as a TV and couch area for shoppers.
"This is an apartment of a sportsman, he will be living here and people can come and look at his wardrobe," he said.
Dikkembergs' new opening comes after the doyen of Italian fashion, Giorgio Armani, last week inaugurated a huge new "concept store," covering 4,000 square metres on New York's Fifth Avenue, complete with a private VIP fitting room.
Spread over four floors, it brings together his brands Armani Jeans, Emporio Armani and the main Giorgio Armani line as well as Armani chocolates, homewear and a restaurant.
With celebrity fans, Armani's guestlist did not disappoint at the opening cocktail party with names like Spice Girl Victoria Beckham and actor Leonardo Di Caprio.
Even so, Armani was quoted in Italian daily La Repubblica saying: "I didn't feel like celebrating with caviar. In these times, you can't really."
Roberto Cavalli, who counts the Spice Girls amongst his fans, is to open a new store next month in Paris' chic Faubourg Saint-Honore in March.
"It is probably crazy at a time of crisis like this but I was really keen on it," Cavalli was quoted as saying in daily La Stampa. "It has been my dream."
Salvatore Ferragamo, famed for its shoes, handbags and silk scarves, announced the opening of a new store in London's Westfield Mall, spanning 200 square metres. And celebrity red-carpet favourite Versace has several openings planned for this year too, CEO Giancarlo Di Risio told Reuters.
Meanwhile, Prada, whose designer Miuccia Prada is known for her innovative designs, has asked four top fashion editors to "re-dress" four of its stores in New York, London, Milan and Paris during the current fashion show season.
Like Bikkembergs, Italy's Blugirl, Blumarine designer Anna Molinari's more youthful line, opens its first store in Milan this week, during the current womenswear autumn/winter shows.
As part of fashion week, Armani on Thursday showed off his Emporio Armani collection, going for a light look that was so feminine it excluded trousers. He teamed short skirts with socks and sheer tights and tops had petals, ruffles and frills.
Jewellery was draped at the hip or on jackets.
© Thomson Reuters 2023 All rights reserved.