Debenhams positive on outlook as profit tops hopes
LONDON - Department store chain Debenhams beat market expectations by posting broadly flat first-half profit and said it was "comfortable" about meeting targets for the second half, when trade will be impacted by the Diamond Jubilee and Olympics.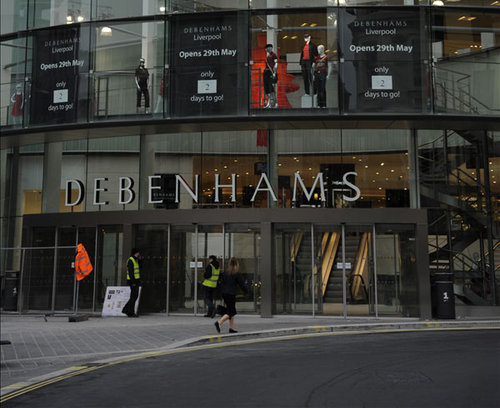 Debenhams store in Liverpool / Photo: Debenhams
Debenhams, second to John Lewis in the British market, reported headline pretax profit of 128.5 million pounds ($206 million), a slight dip on 129.2 million a year ago, but ahead of analyst consensus of 124.5 million.
Chief Executive Michael Sharp said he was pleased with the performance against a backdrop of tough conditions on Britain's high streets and warm autumn weather, which hit sales of outerwear, a strength for the chain.
He said he was "comfortable" with the market's outlook for the full year.
"However, we are mindful of the impact the wider economy may have on consumer behaviour in the second half of the year as well as the uncertain effects of the major one-off events taking place in the UK during the summer," he said on Thursday.
Debenhams said last month that sales from its 170 stores in Britain, Ireland and Denmark, 66 franchise stores in international markets and online rose 1 percent in its first half.
Sales at stores open more than a year rose 0.3 percent, excluding sales tax, in the 26 weeks to March 3, confounding analysts who had expected a slight fall.
The group, which sells clothes, cosmetics and homeware, reduced its net debt by 71.9 million pounds during the period to 311.8 million pounds, and said it would spend 20 million pounds buying its stock over the next six months.
It maintained its interim dividend at 1 pence a share.
© Thomson Reuters 2022 All rights reserved.