De Beers cuts debt, cautious after 2009 loss
LONDON (Reuters) - Top diamond producer De Beers bolstered its balance sheet on Thursday 11 February with a $1 billion rights issue and bank refinancing as it swung to a annual $220 million underlying loss after demand plummeted for luxury goods.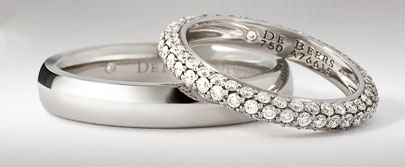 De Beers jewellery
The company was cautious about the future and said output would only slightly rise in 2010 after halving last year.
"With the fragility of the world economy and perceived weakness of the global recovery post recession, the company would only expect a gradual increase in production levels, sales and prices," a statement said.
De Beers said 45-percent owner Anglo American Plc and two other shareholders confirmed they will pump more cash into the company after it was forced to shut mines last year during the downturn.
The group said in December that Anglo, South Africa's Oppenheimer family with a 40 percent stake and the Botswana government with the remaining 15 percent had agreed to a rights issue of up to $1 billion to cut its $4 billion of debt.
The group, which controls around 40 percent of the rough diamond market, said on Thursday 11 February banks had granted credit approval for the refinancing of a $1.5 billion facility after months of negotiations.
Profits were hit after the group slashed output in early 2009 and its biggest unit in Botswana shut down completely for several months when consumers shied away from buying luxury goods during the downturn.
De Beers moved to an underlying loss of $220 million in 2009 after underlying net profit of $515 million in 2008 while rough diamond sales tumbled to $3.2 billion from $5.9 billion.
Anglo said it would report an underlying loss of $90 million from its holding in De Beers. De Beers is a small part of Anglo, contributing about 5 percent of the group's operating profit in the past two years.
(Reporting by Eric Onstad; Editing by Mike Nesbit)
© Thomson Reuters 2022 All rights reserved.