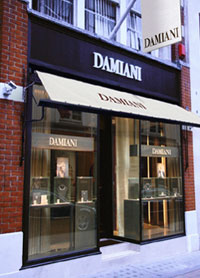 Damiani store-front in London
The jeweller Damiani has opened its first own-name boutique in London at number 11 on the celebrated Old Bond Street. Number two in its country, behind Bulgari, the Italian brand is now taking a step forward in its retail strategy.
Rolex, Tiffany, Cartier, Chanel, Gucci, Saint Laurent, Tod's and Ferragamo, the big names from the fashion and luxury world have been on Old Bond Street for a long time. This London street is not lacking in style and is one of the first ports of call for upmarket brands.
Damiani, which had been waiting for the opportunity to establish itself there, was not mistaken; Guido Damiani, CEO of the eponymous group, declared that, "London is one of the (most important) cities, (at the crossroads of international shopping and luxury) and we could not miss this opportunity."
Therefore, a new boutique of 110m² spread across two levels is now waiting for customers in London. The store is decorated in red and gold, with the red referencing the bricks outside of the same tone.
For the rest, beige and gold are faithful to the colours of the Damiani network. This network currently includes more than forty points of sale and a similar number of franchises. Little by little, the group is expanding and reaching the four corners of the world.
By Jonathan Fulwell (Source: Emilie-Alice Fabrizi)
Copyright © 2023 FashionNetwork.com All rights reserved.