CWF embarks on a restructuring programme
Following the departure of former president Chrystel Abadie-Truchet, CWF's management team together with its shareholder representative decided to begin a vast restructuring programme of the children's clothing manufacturer. As a result of this, the company, which currently employs 910 people, has just announced 150 job cuts at its site in Herbiers (west central France).

Francis Cukierman, CWF's current president, is also the managing director of Invus, who is the investment advisor of CWF's shareholder Artal. According to Cukierman, the new programme's aim is to adapt CWF to new consumer spending habits, especially in the Southern European countries where it is very well established. This will require a restructuring of the company as well as its staff.

CWF confirmed that an employment protection plan will also be put into place. The manufacturer also spoke of its wish to relocate people to other areas within the company if possible.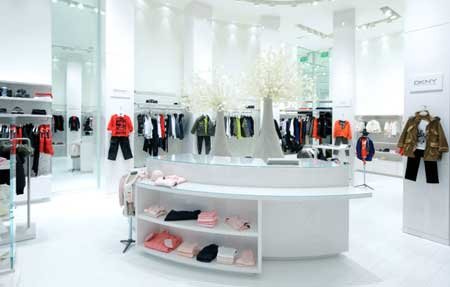 Une boutique Atelier de Courcelles à Londres
CWF embarked on a vast restructuring plan around six months ago, going from a horizontal business model (with for example one creative department that managed the whole group of brands) to a model by business unit. This means that, from now on, "each brand will have its own manager, with its own team, together with the responsibility to come up with a good product, at a good price, and launch it at the right place and at the right time", explained Francis Cukierman. Each person responsible for the brand will work in parallel with the other areas such as commercial marketing, supply chain, sourcing, human relations, etc.
Furthermore, according to CWF, its structure was also too clumsy and complicated, with too many round trips in product development between the Herbiers site and suppliers. The president explained that "often, a prototype that had been put together in Herbiers would be sent to the supplier and then sent back to Herbiers, before being sent once again to the supplier. This fragmentation of tasks was turning out to be very costly for the company."
Now there is a distinction between high value added products of which the prototypes will be developed at the Herbiers site or by the suppliers. "Without changing neither the quality nor style, we needed to bypass some steps in order to achieve lower prices", said Cukierman. "Up until now, products at both low and high volumes for luxury and lifestyle brands were treated in the same manner."
According to the president, this restructuring programme was necessary in order to allow CWF to survive today's harsh economic climate but also to help it develop. "This season, we have started taking orders one and a half months early, so since December 1st instead of January 15th like we used to. This will allow us to begin the manufacturing sooner and therefore the delivery sooner as well. This means that, from as early as summer 2012, our residual stock will be reduced from 20 to 10%.
CWF is also currently working on a new sourcing strategy in Asia. Through its recent partner and shareholder Sun City, the manufacturer of Herbiers' kidswear has built a site in Shanghai with the aim of operating a manufacturing plant in China. "It is not that we are going to be changing the quality of our products", reassured Francis Cukierman. "But it wasn't right that the most basic products were being manufactured in the same factories as the more complicated ones."
Last year, CWF registered a total revenue of nearly 158 million euros, which was stable in comparison to 2010. Almost 80% of that figure came from Europe and the remaining 20% from Asia. "France, Italy, Spain and England, among other European countries, are each responsible for almost 20% of European sales. We have to admit that consumer spending in countries from the South has been decreasing. But at the same time, there is an increasing demand from countries from the Middle East, Asia and Russia."
CWF has developed a retail concept called Atelier de Courcelles which currently has around 15 points of sale. The standalone stores can be found in Paris, two in London and one in Milan. Three points of sale via partnerships should also be opening soon in the Middle East. Francis Cukierman spoke of an increase in demand from the emerging countries: "We are working on a distribution strategy in China, where we are currently in talks with some groups." The kidswear manufacturer also wants to develop its Atelier de Courcelles concept for the 2013 season, keeping its luxury aspect but making it more "child-like".
Copyright © 2023 FashionNetwork.com All rights reserved.