Cucinelli's stellar debut seen boosting Italy IPO appeal
MILAN - Italian cashmere specialist Brunello Cucinelli made a sparkling market debut in Milan on Friday, buoyed by strong demand for European luxury goods stocks that have shrugged off double-dip recessions on the continent.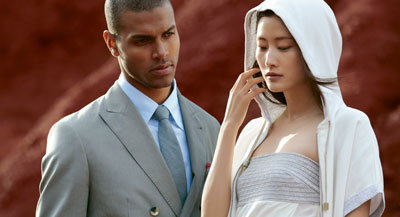 Photo: Brunello Cucinelli
Cucinelli's initial public offering (IPO) was relatively small but was still seen by the Italian bourse as a welcome boost, coming after Ferragamo's flotation last year and the loss of fashion house Prada to an Asian listing in 2011.
"I think the success of Ferragamo and Cucinelli will convince other Italian luxury companies to list in Milan, maybe this year, but more probably next," Raffaele Jerusalmi, chief executive of Borsa Italiana told Reuters at the launch ceremony.
Italian investors like to point out Prada's stock is up 29 percent since its June 2011 listing in Hong Kong, while Ferragamo shares have soared almost 90 percent since its Milan listing at about the same time.
The fact that Asian investors have to pay Italian taxes on their Prada holdings has reduced its appeal, analysts say.
"Milan's only competitor in the luxury sector is Paris. We're sorry about Prada. We're trying to convince them of the benefits of a dual listing, it's still possible," Jerusalmi said on the 1930s exchange, where bags of Mongolian cashmere wool adorned the former trading floor.
Yet one Milan-based analyst doubted this could be the start of a series of Italian IPOs. "There are very few (companies) thinking about it, there's no stock exchange culture in Italy and luxury companies are mainly family held," he said. "The quantity (sold) ... by Cucinelli was very small," he added.
Shares in the Umbria-based maker of high-end cashmere jumpers worn by Britain's Prince William soared as much as 56 percent to 12.1 euros, above the 7.75 euros at which it priced its share sale.
Cucinelli's relatively small size meant it had to disappoint some investors.
GREAT SUCCESS
"It's not surprising it's a great success. I would have liked to be part of it, but with the IPO covered 18 times over, (it was) complicated to get paper," said Armand de Coussergues, fund manager at Paris-based Financiere de l'Echiquier.
The stock traded at about 37 times 2011 net profit, compared with multiples of 27 for Ferragamo and 29 for Prada.
The IPO raised 158 million euros ($208 million) from international investors and from well-known fashion names such as Benetton, which is delisting from the Milan exchange, and menswear maker Ermenegildo Zegna.
European luxury goods makers have been able to shrug off the euro-zone debt crisis as they tap into demand from newly-rich Asian consumers.
The company, founded by university drop-out Brunello Cucinelli in 1978, said earlier this week the offering of about a third of its shares was more than 17 times oversubscribed, leading it to close the books earlier than planned.
The son of a farmer, 58-year old Cucinelli is anything but an orthodox capitalist. He has turned the mediaeval village of Solomeo, near Perugia in central Italy, into a factory where workers do not punch a time clock and lunch breaks are long.
"This listing shows that romanticism and enlightenment are compatible with a humanist form of capitalism," he said at the ceremony, before presenting Jerusalmi with a 16th-century edition of Aristotle's Nicomachean Ethics. "It also shows we're a serious country, we have international credibility."
Cucinelli said he would use the proceeds of the public offer to open stores in top locations in Europe, America and Asia, but would stick to a "gentle, sustainable" pace to protect the exclusive appeal of its range.
The company sells mostly in multibrand stores worldwide and in only 50 "monobrand" shops, a small number compared with powerhouses such as Prada and Ferragamo. It posted 2011 net sales of 243 million euros and core earnings of 40 million.
Bank of America Merrill Lynch and Mediobanca are global coordinators on the deal.
© Thomson Reuters 2023 All rights reserved.