Crocs launches new concept store in Nice
Crocs recently launched its new concept store on March 22. For the first time in Europe, the new revamped store design has been revealed right in the centre of Nice, France, on Masséna Street. The spacious building was previously occupied by ready-to-wear brand Windy and comprises a double display window.


As Crocs celebrates its 10th anniversary this year, the new retail environment reflects the brand's efforts to reposition itself in the market. On the outside, the usual green doors have been replaced by simple, wooden ones, while the interior has been conceived in such a way that customers can easily navigate inside the store and discover all of the 300 footwear styles offered by Crocs for men, women and children.
This Spring/Summer 2012 season will see the launch of one of Crocs' most innovative collections to date. Always using its exclusive Croslite material, responsible for the comfort of every pair of Crocs shoes, the brand has decided to explore new different types of footwear. In an attempt to evolve its brand image beyond that of "comfortable" to include a fashionable and elegant appeal, Crocs hopes that its image will no longer only be associated with its classic Clog model. This new direction being taken by the US footwear brand is clearly visible in its new 'Translucent' collection, in particular the women's ballet pumps with carefully thought-out designs, available in a whole range of vibrant colours. Crocs' playful spirit is also still very much present, with for example the children's 'Chameleons' model which changes colour in the sunlight.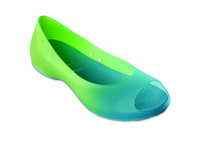 Footwear from Crocs' 'Translucent' collection for the Spring/Summer 2012 season
In line with its plan to diversify its product offering and enlarge its customer base, Crocs has also decided to improve its cold-weather collection. This Fall/Winter season will this see the arrival of a more sophisticated, comfortable and multi-purpose line, going from wellington boots to velvet flats.
Before arriving in Nice, the new concept store had already been tested by Crocs in three locations in the United States, its national market. Now ready to be developed in Europe, last week's store opening in Nice was considered to be a first step in its "long-term growth strategy to reposition the Crocs brand in Europe," said Crocs European Managing Director Vince Gunn. Two more stores based around the new concept are scheduled to open on March 28 in Hamburg and on April 15 in Frankfurt, while a "normal" boutique will open in Stockholm on March 30.
In France, Crocs' plan is to develop a sales model which relies 40% on wholesale, 40% on retail and 20% on e-commerce, the latter being its main focus at the moment. Crocs currently operates three boutiques in France, but this number will soon be going up to four with the arrival of a new flagship in Paris. From now until the end of 2012, Crocs expects to open 10 standalone stores. Also based on the new design, these boutiques will cover an area of at least 120 square metres and will showcase the brand's entire footwear collection.
Copyright © 2022 FashionNetwork.com All rights reserved.