Crocs cuts outlook on sales slowdown, shares dive
Mon Oct 17, 2011 (Reuters) - Shoemaker Crocs Inc (CROX.O) lowered its outlook for the first time in three years as it faces softening sales at its stores, amid a weak economy in Europe and shaky consumer confidence in the United States.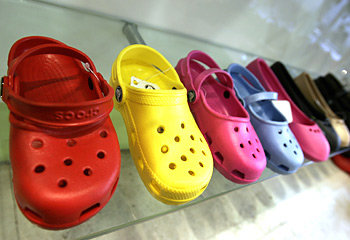 Photo: AFP
The dim outlook sparked a sell-off in the Crocs' stock, wiping out nearly 40 percent of the company's market value in extended trading. They were trading at $17.08 in after-market trade, after closing at $26.64 on Monday on Nasdaq.
"I am not surprised by this type of market reaction," Wall Street Strategies analyst Brian Sozzi told Reuters.
"Any time you have a wholesaler like Crocs saying they missed sales and their margins are below plan, you immediately think of an inventory pile up in the channel."
Crocs, known for its colorful clogs, has seen its stock gain over 55 percent so far this year, excluding Monday's losses, benefiting from streamlining its business, lowering inventory levels and introducing new styles to win customers.
Footwears products like sneakers and boots offered by peers such as Nike Inc (NKE.N), Genesco Inc (GCO.N) and Footlocker Inc (FL.N) have been selling well, analyst Sozzi said.
There is now increased competition among footwear companies and each is vying for consumer's attention, he added.
"(If) they have to choose between Nike shoes and a pair of Crocs that are higher priced than last year, I think they are going to opt for the Nike boots," Sozzi said.
The lower direct-to-consumer sales also ate into the company's gross margins, Chief Executive John McCarvel said in a statement.
Crocs sells its footwear in more than 90 countries through domestic and international retailers and distributors, and directly to consumers through its company-operated retail outlets, kiosks and online store.
Last month McCarvel had told Reuters that trading conditions in the United States and Europe were "patchy."
The company expects July-September earnings of 31-33 cents a share, down from its previous forecast of 40 cents a share. It also projected revenue of $273.0-$275.0 million, compared with its prior outlook of $280 million.
Analysts, on average, were expecting earnings of 40 cents a share on revenue of $280.5 million, according to Thomson Reuters I/B/E/S.
"We experienced some softness in our consumer direct channel in kiosk and outlet locations," McCarvel said.
Crocs further warned that fourth-quarter revenue growth will slowdown to the low teen range in percentage terms from the expected increase of about 27 percent in the third quarter.
(Reporting by Meenakshi Iyer and Nivedita Bhattacharjee in Bangalore; Editing by Viraj Nair)
© Thomson Reuters 2023 All rights reserved.