Couromoda 2010 sees 70,000 visitors
The 37th edition of Couromoda - International Shoes, Sports Goods and Leather Goods Fair - held in São Paulo from January 18 to 21, 2010 – was a major event in the Brazilian and Latin American footwear market, with international effects.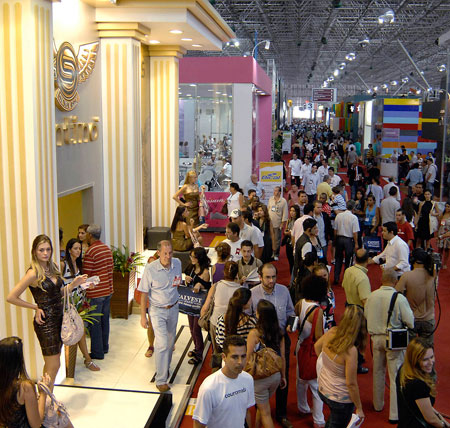 Photo: Fábio Castro e Nilton Rettich / StudioF Fotografia/Jefferson Bernardes © Preview.com/J.R Comodo
The final figures from Couromoda showed that the trade show hosted 70,000 professional visitors (buyers, distributors, manufacturers and opinion makers) in four days, representing a 7% increase compared to the 2009 edition.These visitors came from all over Brazil and from 61 other countries.
The 15 countries with the most significant presence at Couromoda were: Chile, Bolivia, USA, Colombia, Venezuela, Ecuador, Paraguay, Argentina, Italy, Costa Rica, Spain, Portugal, Uruguay, France and Peru.
It is worth noting that this edition hosted big names from the European retail sector, including buyers from major chains in France, Italy, Germany, Ukraine, Austria, Poland and others.
"These buyers came to Couromoda interested in products with higher added value that are sold in the stores at a price of €150. The quality leap in Brazilian exports is one of the great accomplishments of the footwear industry, with design, fashion and added value", says Francisco Dos Santos, founder and president of Couromoda.
For international buyers, the trade show represented a source of new inspiration! This edition welcomed around 1,500 international buyers who came to check out the 1,100 exhibitors and more than 3,000 footwear and fashion accessories brands. Comments were made regarding the vitality of the fair, the prospect of marketing investments with the exhibitors and, naturally, by the sheer diversity and quality of Brazilian products.
In just four days, visitors were able to get a 360-degree view of the entire industry, taking in collections from factories from more than 20 Brazilian states. Moreover, at Couromoda international buyers met factory owners, export managers and designers, thus benefitting from direct interaction with key business and fashion decision-makers.
For Brazilian retailers Couromoda has become an absolute must. The show introduced new fashion collections at a crucial time for the retail market: 20 days after the Christmas sales. Buyers came from all over the country to find collections for all types of consumers and all climates: ranging from popular fashion to ultra-sophisticated ranges for all seasons.
Couromoda exhibitors represented a colossal 90% of all Brazil's production of footwear, bags, accessories and sports goods. In 2009, Brazil produced 725 million pairs of shoes, of which 600 million were sold on the domestic market.
Copyright © 2023 FashionNetwork.com All rights reserved.