Costco Wholesale prepares for its arrival in France
The American group, which specializes in distribution via club-warehouses open to both professionals and the public, has entrusted the commercial real estate firm CB Richard Ellis with the task of acquiring locations in France. The stated aim is to move closer to all major French cities. Paris, Lyon, Marseille, Lille, Toulouse, Bordeaux and Nice are cited as examples. The openings may be sequenced at a rate of 2 to 3 stores per year.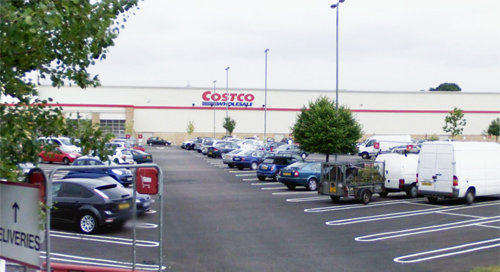 The Costco in Watford, just north of London - Photo : GoogleStreetView
The search is focused on spaces that are 12,000 to 14,500 square meters (129, 166 sq ft to 156, 076 sq ft) in area and which are situated on land that spans between 2.5 and 6 hectares. Obviously areas located near major highways are favored by Costco, which emphasizes its preference for building-plots. Operating in nine countries throughout 580 sites, Costco presently operates in Europe through its 22 British stores.
A competitor of hypermarkets, the brand's offerings encompass sporting goods as well as jewelry and cosmetics, but also fresh produce, household appliances and electronics. Positioned upmarket with prices that "defy all competition", Costco Wholesale has made 76.65 billion dollars (55.6 billion euros) in sales last year, representing an increase of 9%.
Copyright © 2022 FashionNetwork.com All rights reserved.