Cosmoprof shines in Bologna
Bologna, April 20, 2010 - Despite the inconveniences caused by the volcanic eruption in Iceland that coincided with the event, leaving thousands of people stranded across Europe, Cosmoprof Worldwide Bologna has ended its 2010 edition with success.
The international cosmetics trade show, now in its 43rd edition, has seen nearly 5% more visitors than in 2009, with a total attendance of 147,000. This year there were almost 6.5% more Italians, as well as 33,400 foreign visitors, representing 23% of the total. There were 2,254 exhibitors, of which 1,325 came from abroad.


Franco Bergamaschi, founder of Erbolario di Lodi, was interviewed by FashionMag towards the end of the event, saying that it "has been very positive. We have seen a good influx of foreign visitors, despite the difficulties in Europe's skies since 14 April, and visitors from Italy have without a doubt been growing in number. For us there was a constant spread over all four days."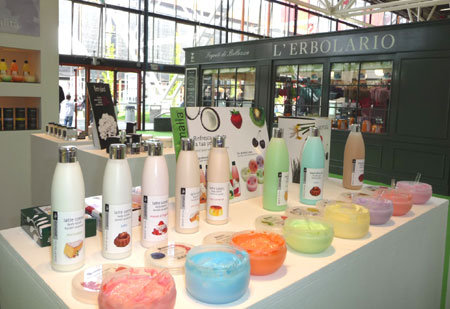 Cosmoprof 2010
Inside the 26 pavilions prepared for the event, Cosmoprof displayed the whole spectrum of excellent cosmetic and hairdressing products and equipment for beauty centres.
Visitors were able to attend numerous events and demonstrations, Aldo Coppola was capable of creating breathtaking hairstyles in minutes, for example.
Among the novelties that have received great interest was the "green" pavilion dedicated to natural products, where the first certified organic cosmetics were presented. Among the major exhibitors in this section FashionMag interviewed Egidio Chinati, Commercial Director of OFI, Workshop Pharmaceuticals who has been coming to Cosmoprof for over thirty years. He stressed the importance the event holds for their business: "Cosmoprof is a showcase that we can not overlook," he said. "Because we are leading manufacturers in Italy, we cannot miss the industry's most important exhibition."
Egidio Chinati admitted that the presence of Europeans and North Americans was lower than expected, while visitor numbers were positive from the Far East, which had evidently not been hit by the paralysis at the airports. "I'm still optimistic - he concluded, because it is the quality not the quantity of the contacts that matters."
Despite the effects of the economic crisis and natural disasters, Cosmoprof has ended on a positive note, which augurs well for the future of the industry.
Copyright © 2023 FashionNetwork.com All rights reserved.