Cortefiel to close Milano menswear stores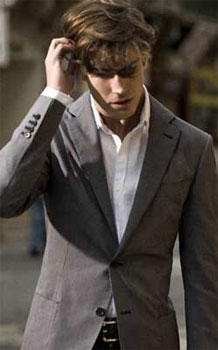 Cortefiel
MADRID, June 16 (Reuters) - Private equity-owned Spanish retailer Cortefiel will close its men's suits shops Milano after the summer sales to focus on larger, more profitable brands.
"Tailoring has suffered a notable fall in demand compared to new fashion concepts such as smart casual, which the chain Cortefiel is strongly developing," the retailer said in a statement on Tuesday 16 June.
The 11 Milano stores in Spain, down from 17 at the end of February, contribute 2 percent of Cortefiel's total turnover, and will be turned into branches of the retailer's other labels.
Owned by private equity firms Permira [PERM.UL], CVC and PAI Partners, Cortefiel has more than 1,500 shops and franchises in 56 countries.
However, home country Spain still contributes about three quarters of turnover, which was 1.070 billion euros ($1.48 billion) for the year to end-February.
Cortefiel has flagship women's and men's clothing brand Cortefiel, as well as upmarket label Pedro del Hierro, casual brand Springfield and underwear and nightwear chain Women's Secret.
Like many Spanish retailers, it is grappling with a sharp consumer slowdown, with unemployment now over 18 percent.
Spanish retail sales fell 7.5 percent year-on-year in April, the 17th consecutive monthly decline, and a poll by consumer group FUCI on Tuesday 16 June found shoppers expected to spend 5.5 percent less in this year's summer sales than in 2008, or an average of 90 euros.
"The crisis is leading consumers to only buy those items they really need, giving up what is superfluous despite the aggressive discounts which the shops are going to make," FUCI chairman Agustina Laguna said.
Cortefiel's decision to close Milano comes after a management shake-up at the company.
Last month, Juan Carlos Escribano Garcia-Bosque became chief executive and former chief executive Anselm van den Auwelant became non-executive president.
In March 2007, Cortefiel refinanced debt to the tune of 1.385 billion euros. (Reporting by Sarah Morris; Editing by Dan Lalor) ($1 = 0.7232 euro)
© Thomson Reuters 2023 All rights reserved.