Coach profit up but pace of North America growth cools
Upscale leather goods maker Coach Inc posted a higher-than-expected quarterly profit on Tuesday, benefiting from sales gains in China and better margins, but the pace of growth in North America slowed and shares fell nearly 3 percent in premarket trading.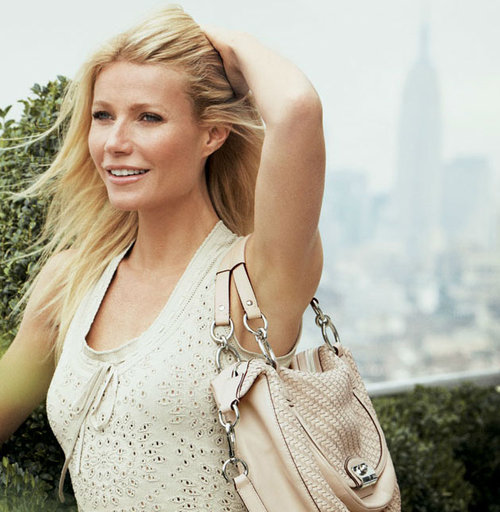 Gwyneth Paltrow for Coach / Photo: Coach
Sales at its stores open at least a year in North America, still Coach's biggest market by far, rose 6.7 percent. But that compared to 8.8 percent in the previous quarter.
And sales at U.S. department stores were were "modestly" below last year, even as overall sales at chains like Macy's Inc and rose during the first months of the year. That business accounts for 6 percent of Coach's overall revenues.
Brian Sozzi, chief equities analyst at NBG Production, said the market appeared to have been unnerved by the slower pace of gains in North America considering the strong increases in U.S. luxury spending during the quarter.
Revenue in the third quarter ended on March 31 rose 16.6 percent to $1.11 billion, just above the $1.10 billion Wall Street analysts were expecting, according to Thomson Reuters I/B/E/S.
In China, a small but fast-growing market for Coach, sales soared 60 percent and were on pace to hit at least $300 million this year. That would represent 6.3 percent of Wall Street's forecast of $4.8 billion for total company revenue.
Net income was $225 million, or 77 cents per share, compared with $186 million, or 62 cents a share, a year earlier. The results beat Wall Street forecasts by 2 cents per share.
Coach's gross margin rose 1 percentage point to 73.8 percent of sales.
Coach raised its dividend 33 percent to $1.20 per share.
Chief Executive Officer Lew Frankfort said that he was confident sales and earnings would continue to rise at double-digit percentage rates.
The Coach client "is being judicious but spending at higher levels than a year ago," Frankfort told Reuters.
The company will buy back its retail business in Malaysia this summer and Korea next year from local partners, giving it more control over the brand and how to promote it in Asia. That follows similar moves in Taiwan this year and Singapore last year. Ralph Lauren Corp has similarly bought back retail operations in Asia from partners in recent years.
Coach also said it is doing away with coupons at its factory stores, where it sells excess merchandise from its full service stores.
That, Frankfort told Reuters, will simplify pricing and free up workers at the stores. What's more, because products at the Coach factory outlets are exclusive, the company has the power it needs for the new pricing strategy.
Shares of Coach were down 2.7 percent at $73.05 in trading before the market opened. They closed at $75.12 on Monday on the New York Stock Exchange.
© Thomson Reuters 2023 All rights reserved.