Christian Louboutin opens its first men's store
Until now shown in a relatively large space in the midst of the area devoted to the women's collection, Christian Louboutin's men's lines now have their own showcase in Paris. This is the first ever men's store for the footwear giant who symbolically chose to house the collection at 17 rue Jean-Jacques Rousseau, opposite the now famous and historic location of the first Christian Louboutin boutique, which opened twenty years ago.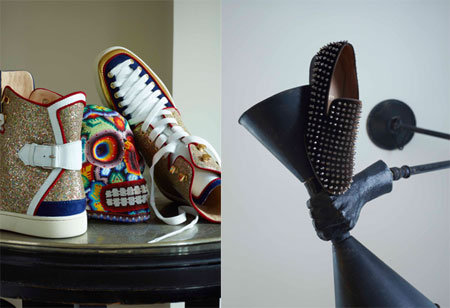 Christian Louboutin, men's models : "Alfie Specchio Calf & Glitter" and "Rollerboy" in suede. (c) photo Olivier Saillant
If several men's models popped up here and there in the past amidst the vast offering for women, this is a real men's collection that has taken shape during the past three years. There has been a growing demand, which has great potential, explains the fashion house. Among the leading models at the moment, there are the "Tasselissimo" moccasin in calfskin adorned with a cluster of tassels, the "Loubi" also a moccasin, but in straw and covered with trompe l'oeil embroidery by Jean-François Lesage, or the "Rollerboys spikes" which come in leather versions, tartan, velvet or even pony with metal studs. To house all these, a new space of about 50 square meters in area, decorated in the eclectic fashion that has characterized the braind, mixing eras and being approachable and animated but not over-the-top. In the spirit of luxury, a customization studio, nicknamed the "Tattoo Parlor" has beed set-up at the back of the store, where each customer may customize his richelieux or moccasins. More than mere initials, the designer offers, under the skilled embroidery needle of Jean-François Lesage, to reproduce your own tattoos. For those who happen to have none, a series of drawings is available to choose from.
The rapidly growing brand, which does not disclose its numbers, should establish itself in 46 points of sale by the end of the year. As for the online store, which only covers the United States for the time being, it should arrive in Europe by next spring.
Copyright © 2023 FashionNetwork.com All rights reserved.