Chanel dazzles Paris with starlit haute couture show
July 6 - Chanel's Karl Lagerfeld dazzled the fashion world on Tuesday with a rare nighttime presentation of his fall-winter haute couture collection that conjured up all the magic of a walk through starlit Paris.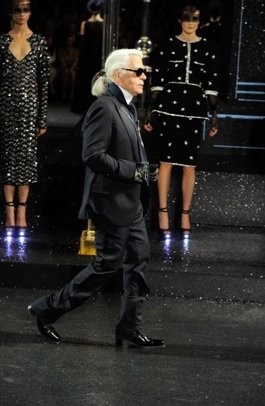 Karl Lagerfeld on Tuesday at the presentation of his fall-winter haute couture collection in the Grand Palais in Paris
With his usual sense for high drama, the white-haired designer transformed the Grand Palais, a stately exhibition hall by the River Seine, into a fairytale version of Place Vendome -- a square known as the seat of Parisian luxury.
A silver statue of Coco Chanel, the brand's founder, stood perched atop a mock-up of the obelisk at the square's center, taking the place of Napoleon Bonaparte in a wink to Chanel's dominance of high fashion couture.
The clothes on display also paid homage to Parisian chic, heavy on glamour and chintz but confined to a narrow color palate of blacks, whites, purples and mauves.
"I liked it, it's very Coco, very 1930s but with the Karl touch to it, that kind of gothic touch," Italian model Eliza Sednaoui told Reuters TV. "I'm here because I like the man behind the line and the people who put it together."
Lagerfeld kicked off the show with a procession of classic Chanel suits declined in silver and grey wool, or starkly pairing white structured jackets with heavy black skirts.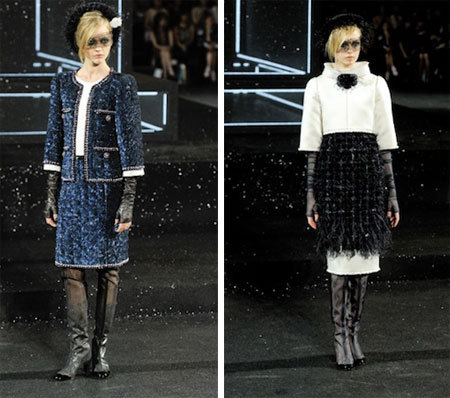 Autumn-Winter 2011/2012 Haute Couture collection - photo: Pixel Formula
Tailoring was close to the body, with pencil skirts hugging the knees and lower legs covered in trouser-like transparent stockings bisected with a stripe of black felt.
Tight and pinched like lamp shades, full-length skirts trailed the paillette-strewn runway, and all-black evening dresses bristled with beetle-like clusters of jewels that twinkled in the glare of stage prop street lamps.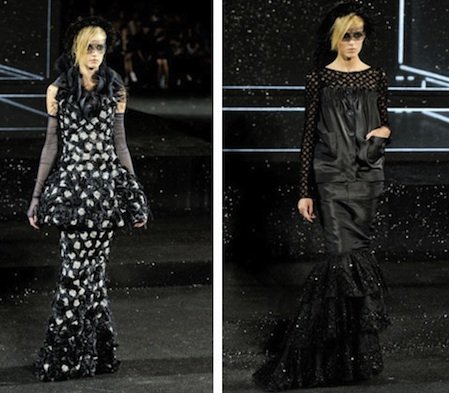 Autumn-Winter 2011/2012 Haute Couture collection - photo: Pixel Formula
"There is such a strong Paris feel to the whole collection, it's really magical," said Diane Kruger, the German-born Hollywood actress.
After reaching for a younger feel in recent collections, Chanel's latest display struck a distinctly more dressed-up note with delicate face veils, hats and some formal gowns that might have emerged from a Victorian dressmaker.
The traditional wedding dress was shimmering satin and tight-fitting with a 10-foot train, marked along its entire length with zebra-patterned silver leaf decals.
The traditional Chanel wedding dress - photo: Pixel Formula
When the overhead lights came back on, Lagerfeld toured his imaginary Place Vendome to salute the crowd of fashionistas, many of whom stood throughout the packed show.
As rival house Dior muddles through a transition phase in the search for a new head designer, Chanel played its role as standard bearer for Parisian fashion to the hilt.
© Thomson Reuters 2023 All rights reserved.