Castelbajac: After the Falic brothers, Dominique Bergin throws in the towel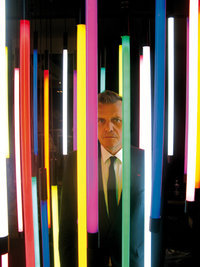 Jean-Charles de Castelbajac - Photo: Louis-Marie de Castelbajac.
Jean-Charles de Castelbajac stands lose another potential buyer. After the withdrawal of the Falic brothers (Christian Lacroix) this summer, it was Dominique Bergin, owner of Look Cycle, who withdrew his takeover bid. Close to the designer, and still associated with him, the manager made the decision on the basis of certain legal risks associated with the fashion house's past. Therefore only the Korean group EXR, also a sportswear specialist and distributor of the brand Jean-Charles de Castelbajac within its territory, remains in the running. For its part, the Castelbajac company, which is undergoing reorganization measures, confirmed that the Paris Commercial Court is not expected to rule until the 13 or 14 of September. A hearing was scheduled for Tuesday.
The file assembled by Dominique Bergin, president of Look Cycle, appeared to be the most secure. The designer and the manager have worked side by side since obtaining in 2009 with Look Cycle the Rossignol textile license and making the decision to strengthen the cobranded line Rossignol and Jean-Charles de Castelbajac. In fact, this line has been in existence for quite some time. To develop the line, Dominique Bergin has also created an entity called Sports & Styles. With this withdrawal, Jean-Charles de Castelbajac, who wanted to take the opportunity to reinvest in the company that bears his name, may no longer have the option of being associated with the purchaser. Stay tuned…
by Anaïs Lerévérend et Bruno Joly
Copyright © 2023 FashionNetwork.com All rights reserved.