Casino warns Carrefour it can halt Brazil deal
July 4 - France's Casino warned archrival Carrefour on Monday that any merger between its Brazil unit and the country's biggest retailer Grupo Pao de Acucar could not go ahead without its consent.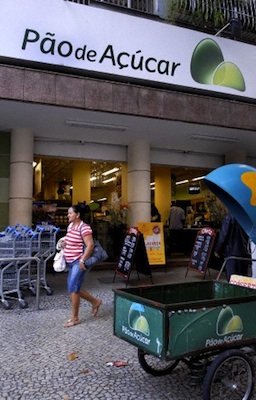 A signage of Pao de Acucar supermarket is displayed in front of a store in Flamengo neighborhood, Rio De Janeiro, Brazil. - photo: corbis
The French groups, both massive brand names at home, are slugging it out over the fast-growing Brazil market as their European sales fade, but the trophy that Carrefour is attempting to win has already been claimed by Casino, which owns a controlling stake in GPA.
As Carrefour's board approved the merger plans, the chief executive of Casino was already en route to Brazil to stop funding for the deal.
In Paris, Casino issued a statement telling Carrefour that its board could be held "liable" for accepting the deal without Casino's consent.
"Following Carrefour's press release, the Casino group considers that Carrefour and the members of its board of directors may be held liable in accepting, despite repeated warnings, a hostile transaction arising out of illegal negotiations," it said.
Casino would not say if this meant it was considering legal action against Carrefour but a source close to the matter told Reuters Casino's reaction had to be taken "very seriously".
"I think Casino has all the aces," said RBS analyst Justin Scarborough. "They don't need the cash and they've got what looks like a growth driver long-term. They've got every right to say 'we're not doing a deal'."
He noted that next year Casino can buy one share in the GPA holding company Wilkes, which would give them majority voting rights and the ability to appoint the GPA chairman.
Casino had already begun arbitration proceedings against the current GPA chairman, Brazilian tycoon Abilio Diniz, for allegedly negotiating with Carrefour without informing it.
On Monday it filed a second request for arbitration at the International Chamber of Commerce against the Diniz group, its partner in GPA, to uphold their shareholders' pact.
In a warning to all sides, Casino said: "Any project involving CBD's (GPA's) future, over which Casino has joint control, must take place in strict observance of the shareholders' agreement between the Casino group and the Diniz group, and is thus conditioned upon the unanimous approval of the Wilkes board of directors."
At 1238 GMT, Carrefour shares were down 0.57 percent while Casino shares were up 1.34 percent.
BIG BUSINESS
Carrefour, weakened by three profit warnings since the autumn, needs fast growth in emerging market to offset weak sales at home.
It says the Brazil merger plan would boost the proportion of its sales from growth markets to more than 40 percent by 2013 and create a retailer with sales of more than 30 billion euros ($43.6 billion). It would also bring annual savings of 600-800 million euros, Carrefour says.
But Casino would lose a key growth engine and end up a minority stakeholder in any future company.
"Carrefour must think they've got a loophole. Given that Casino are using words like 'illegal' Carrefour must have been briefed on what they can and can't do," RBS' Scarborough added.
A second source close to the matter told Reuters on Monday that Casino Chief Executive Jean-Charles Naouri was en route to Brazil for talks with the Brazilian National Development Bank (BNDES), which has said it will not put up the $2.4 billion it pledged for the merger unless Casino is on board.
The source said Naouri was expected to meet with BNDES president Luciano Coutinho, who was quoted in Brazilian weekly magazine Veja this weekend as saying: "without agreement, the deal is off."
The deal was proposed by Gama, a company wholly owned by an investment fund managed by BTG Pactual, one of Brazil's leading financial groups.
"The likelihood of a success of the Gama project looks uncertain. The image of Carrefour will be hit by a possible failure," CM-CIC analyst Christian Devismes said.
Casino and Diniz together own 50 percent of the voting rights of Wilkes, the holding company controlling 66 percent of the voting rights of Grupo de Acucar.
Diniz told Veja magazine he had not violated his partnership with Casino.
"The fact is that I saw the opportunity to buy part of (Carrefour's) the operations. I presented this idea to my partner, Jean-Charles Naouri at Casino," Diniz told Veja.
"I talked with him about this in December at lunch in the (hotel) George V in Paris but he wasn't interested."
The transaction would see the creation of an equally owned joint venture, while Gama would take a stake in Carrefour.
(Additional reporting by James Regan and Julien Ponthus; editing by Sophie Walker)
© Thomson Reuters 2022 All rights reserved.