Carrefour needs time for turnaround
By Marie Louise Gumuchian

MILAN, Oct 19 (Reuters) - Carrefour (CARR.PA) will need time to cut costs and expenses in the wake of the recession but will be among the first to benefit when the downturn ends, one of the French retailer's top shareholders said on Monday 19 October.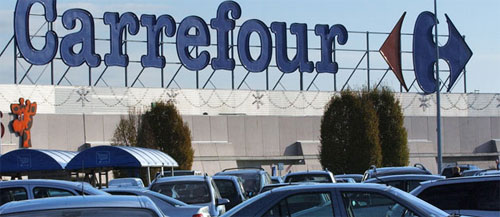 Photo : Mychèle Daniau/AFP
"When we do get an upturn, which we will, the inflationary effect in the world is going to be dominant," said Tom Barrack, chief executive of Colony Capital,
"And when it does, Carrefour will be the recipient of the upward trends in that consuming population," he said on the sidelines of an Italian luxury association event in Milan.
Barrack praised Carrefour's new chief executive, Lars Olofsson, as a "brilliant marketeer" and said he was moving to shrink Carrefour's "very weighty" worldwide infrastructure.
"It takes time, it's like turning an aircraft carrier," said Barrack, "so I think people need to give him (Olofsson) and the management group a little bit more time to redefine the mostly French-centric strategy."
Colony Capital owns 13.5 percent of Carrefour, in concert with Groupe Arnault, a holding company of LVMH (LVMH.PA) Chairman Bernard Arnault.
They bought their initial stake in 2007, with the intention of unlocking value by spinning off Carrefour's property assets and bringing in outside investors, but the financial crisis forced them to put the strategy on hold.
Media reports over the past month have speculated that Colony and Arnault are putting pressure on Carrefour management to sell assets in emerging markets to raise cash and bolster the retailer's underperforming share price.
An article on Le Nouvel Observateur's web site claimed that Olofsson, who joined this year, had threatened to resign over a reported sale of Carrefour's Brazilian operations to rival Wal-Mart, which Colony and Arnault were said to support. Brazil accounts for 12 percent of Carrefour's annual sales.
Carrefour has denied it is considering exiting high-growth markets including Brazil and China.
Carrefour announced earlier this month that it was pulling out of Russia, where it opened its first store in June of this year. Some analysts have speculated that this was as a result of pressure from Colony Capital and Arnault.
Olofsson has given himself three years to cut 4.5 billion euros ($6.72 billion) from Carrefour's costs but many analysts are sceptical given the economic downturn and a tough trading environment in France.
Carrefour posted a 2.9 percent sales drop for the third quarter this year.
More than 40 percent of Carrefour's sales come from France, particularly hypermarkets, which are struggling as consumers turn to convenience stores closer to home and cut back on discretionary non-food purchases.
Carrefour has brought in a new head of French hypermarkets this month, who will take the reins in January 2010. A new action plan for the division is not expected until 2011.
Carrefour shares were up 0.4 percent at 30.25 euros in early afternoon trade.
Carrefour's share price has risen nearly 10 percent since the start of the year, underperforming a 25 percent gain for the Dow Jones Stoxx retail index .SXRP. (Additional reporting by Lionel Laurent in Paris; Editing by David Cowell)
© Thomson Reuters 2023 All rights reserved.