Carla Bruni & Swarovski collaborate to auction designer LBD's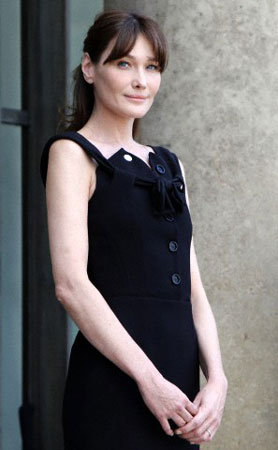 France's first lady, Carla Bruni
New York, 27 Aug (EFE) - France's first lady, Carla Bruni, and the luxury jeweler Swarovski joined forces to organise an auction in September in New York where it will sell 22 little black dresses created by Valentino, Jean Paul Gaultier and Armani Privé, among others, and whose profits will go towards the fight against cancer.
Bruni and the Austrian crystal empire are the instigators of this auction of a 22 select piece collection created to honour the elegance of black. Designers include well-known luxury labels such as Givenchy, Donna Karan New York, Diane von Furstenberg and Gianfranco Ferre.
Adorned with Swarovski crystals, the creations of various dresses form a collection called 22 Ways To Say Black and will be sold at the auction on 20 September led by the Phillips auction house, Pury & Company.
"Black is usually defined as simple, but in the world of fashion it is a colour never underestimated nor called simple. Haute couture today, as in the past, reveals the LBD (little black dress) as a starting point where creative talent has really shined", said the press team of the auction house.
Simon de Pury, chairman of Phillips' Pury & Co. noted the importance of an auction "showing that Swarovski is at the forefront of art, design and fashion since joining some of the best current designers, and adding the final touch to the LBD's."
Other designers involved in the project include Alberta Ferretti, Catherine Malandrino, Lanvin, Vivienne Westwood and Sonia Rykiel.
The proceeds from the sale of clothing as well as the collection catalogues, which can be purchased from several stores in different countries as well as through Amazon.com, will be donated to the American Cancer Society (ACS) and the Force against Cancer charity (la Ligue contre le Cancer) in France.
© EFE 2023. Está expresamente prohibida la redistribución y la redifusión de todo o parte de los contenidos de los servicios de Efe, sin previo y expreso consentimiento de la Agencia EFE S.A.