Camicissima hits Times Square. Greece, Poland & Turkey are next
Milan, October 21, 2010 - Camicissima is opening on Broadway next "unlucky Friday 13th". The new store covering more than 350 square metres, will look down on Times Square as the only Italian fashion house there.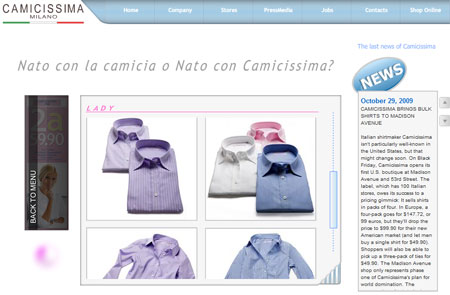 Camicissima shirts
Fabio Candido, CEO of Phoenicia SpA, said: "I am extremely pleased with this new store, which I expect to receive the same great satisfaction in terms of revenue already noted from the store on Madison Avenue that will celebrate its own first anniversary next Friday. Obviously this is only the first step in our development plan aiming for 40 openings in 5 years in the U.S. market. Already today, we are looking at other locations as well as New York, even in other cities like Boston and Chicago."
This opening, the third in the United States, is part of the impressive shop opening program led by the well-known brand of shirts to reach a worldwide level of targeting.
Camicissima, which closed the first half of 2010 with an increase of 18% compared to the same period last year, continues to invest in retail, particularly in foreign country expansion. This started last year with the first opening in New York, and now it is undergoing an development acceleration that will bring the brand before the end of this year to Egypt, where it already opened its first store in Cairo in June and where another is planned soon. Following on will be 2 new stores in Poland, one in Athens, Greece and another in Turkey.
The company's goal for the near future is to create joint ventures in each of the countries to consolidate its distribution network.
Copyright © 2022 FashionNetwork.com All rights reserved.