Burberry cautiously optimistic on recovery
By Mark Potter
LONDON (Reuters) - The global luxury goods market is still challenging, but British fashion label Burberry (BRBY.L) is cautiously optimistic it will start to turn, its chief executive told Reuters on Friday 18 September.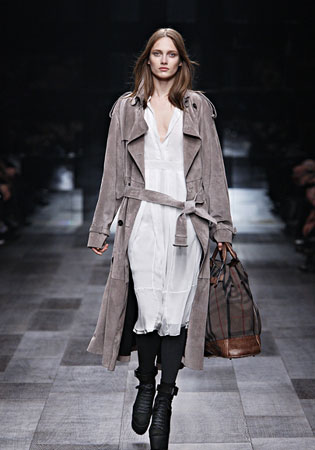 Burberry Prorsum - Photo: uk.burberry.com
Angela Ahrendts also said she was "thrilled" with the momentum of the 153-year-old brand's top-end Prorsum range, whose spring-summer collection will close the 25th anniversary of London fashion week on Tuesday 22 September.
"The environment is still challenging," she said.
"We've got a lot of new initiatives in place, and markets have begun to rally, so we're cautiously optimistic that things will start to turn."
Burberry, best known for its camel, red and black check pattern, has been hit hard, alongside luxury peers, by the global economic downturn, but has mitigated the impact by cutting costs, jobs and inventories. It is also extending the brand into areas like footwear and children's clothes.
Burberry posted a 4 percent fall in quarterly revenue at constant exchange rates in July, compared with consultancy Bain & Co's prediction that global luxury sales will fall 10 percent this year on the same basis.
Ahrendts said she was delighted by the response to Burberry's return to the London catwalk for the first time in ten years.
"We've got more magazine covers and more PR cover this fall season than honestly in other time in the history of the company," she said.
But creative director Christopher Bailey, credited with restoring cachet and cutting-edge to a brand that became overexposed in the 1990s, said the group hadn't decided whether to make the move back from Milan permanent.
MOMENTUM
"We're loving being here. (But) let's see who comes, let's see the buyers, let's see the press," he added.
Ahrendts declined to comment on sales of Burberry's top-end Prorsum range in the economic downturn, but said she was delighted with the interest it created in the brand.
"Prorsum is the exterior perception. It's the most innovative thing that Christopher and the design team do. We couldn't be more thrilled with the momentum that Prorsum has right now," she said.
Ahrendts said debt-free Burberry was alive to the opportunities for expansion created by weak property markets, but that it was currently sticking to its target to open between 10 and 15 new stores this financial year.
"We absolutely have told them (property teams) to take advantage of opportunities when they become available. But right now that is within the projection that we'd said."
She declined to comment on newspaper reports that Burberry is in talks with India's Genesis Colors with a view to forming a partnership that would open 20 to 30 stores across India over the next two years.
But she said India, like other emerging markets such as China and Latin America, was a growth opportunity, and the country's historical ties with Britain made it particularly appealing to Burberry.
"The historical links are absolutely what excite us the most. There's a natural affinity for the Burberry brand there," she said.
Burberry, which trades from about 120 retail stores, 250 concessions, 50 outlets, 85 franchise stores and the Internet in over 25 countries, currently has two shops in India and will open a third soon.
"In a perfect world I think it would be beneficial (to have a retail partner in India)," Ahrendts added.
Burberry's shares fell as much as 70 percent last year, but have reversed almost all of their losses this year, outperforming the DJ Stoxx personal and household goods index .SXQP by about 85 percent.
(Editing by Gary Hill)
© Thomson Reuters 2023 All rights reserved.