Bulgari says positive signals in July after second quarter loss
MILAN, July 30 (Reuters) - Italy's Bulgari (BULG.MI) more than halved its quarterly net loss and said sales at its own stores picked up pace in July despite the global crisis still hurting demand for jewellery, watches, perfumes and accessories.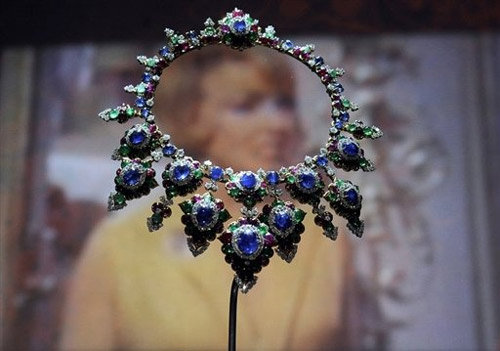 A vintage Bulgari necklace - Photo: Filippo Monteforte/AFP
The Rome-based company on Thursday 30 July posted a net loss of 11.2 million euros ($15.79 million) in the second quarter, compared with 29.3 million euros in the first quarter, and said it had a profit in June.
Chief Executive Francesco Trapani told Reuters in a telephone interview the rise in own store sales in July was higher than the 3.3 percent growth registered in the second quarter, a stronger performance than the wholesale channel.
"The percentage rise (in retail sales) compared to July 2008 is more than 3.3 percent," he said.
"Wholesale in general was still weak in July."
Trapani gave no forecasts for the third quarter nor the full year, saying only "there is a continuous improvement in the months".
He said destocking had also improved. "In the last 10 weeks, the situation is normalising for perfumes after very heavy destocking in the first four months of the year," he said.
"For watches, destocking is not yet finished. I think it is a problem that will be around for the whole year."
Bulgari, for whom Britain's Kate Moss has modelled, said second-quarter revenues were 218.3 million euros, down 20.5 percent compared with the previous year.
All its product categories saw falling sales. All geographical areas posted a sharp slowdown in sales, hit by shrinking orders in the wholesale channel.
"The United States is a disaster, it is a market that is in great difficulty. I am not optimistic in general," Trapani said, adding that Greater China represented "a big opportunity".
LVMH (LVMH.PA), the world's biggest purveyor of luxury products, saw watch and jewellery sales fall 17 percent to 346 million euros in the first half of the year.
Bulgari is not planning on changing its prices, apart from some minor previous increases in Britain and Korea. "There is no intention to change (prices). There were some adjustments where there was currency devaluation," Trapani said.
Trapani said in the statement Bulgari had redefined its worldwide organisation and expects this to lead to "considerably lower" structure costs in 2010 compared with 2009.
Shares closed up 4.68 percent at 4.0275 euros before the statement came out.
(Editing by David Cowell) ($1=.7095 Euro)
© Thomson Reuters 2023 All rights reserved.