Brioni doubles its presence in Croatia
After Zagreb, Brioni has arrived in Dubrovnik, the other tourism hotspot in Croatia. This time, the Italian tailor has chosen the historic charm of the Excelsior palace as the new home for its second boutique.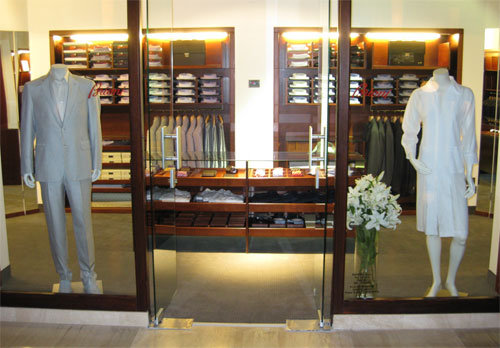 Store-front of the Brioni boutiqeu in Dubrovnik in the Excelsior palace
"The first time that Brioni came to this side of the Adriatic, it was in 1971 for a fashion in Zagreb", recalled Andrea Perrone, the house's new CEO. He added, "now, we have chosen the Excelsior, a resort which perfectly illustrates the atmosphere of the Riviera as it was at the beginning of the 20th Century."
Once again, Brioni is offering a prime location for its collections. Whilst remaining the uncontested master of suits, showing off its "power suit" on the big screen as well as in town, the company is not neglecting its women's collections either. Elegant, refined and in luxurious materials, one can find the Italian spirit of luxury in each design; a success for the collections for both men and women, all the time keeping a high level of discretion. Only the boutiques, which have increased in number in the past few years, bear witness to the company's fortunes.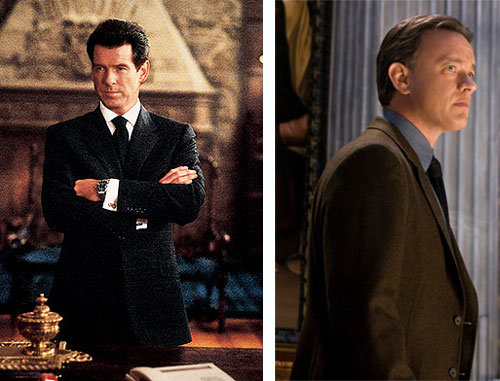 Pierce Brosnan as the celebrated secret agent on Her Majesty's Secret Service dressed in a Brioni suit and Tom Hanks as the famous Professor Robert Langdon in the film Angels and Demons, dressed in Brioni
New Delhi, Dubai, Macau, Cannes and Zagreb, to cite just the latest towns the brand has visited, have been added to the more historic, such as Paris. The new boutique in Dubrovnik will now join the company's already impressive distribution portfolio which, in addition to the 700 wholesale outlets which sell the label, counts 58 own name stores around the world. Furthermore, the brand is planning other openings in the coming months, in Istanbul, Beirut, Dubai, Shanghai and Lugano.
With the publication of the business' 2008 results, Andrea Perrone specified the details of a development plan for Asia and the Middle East which is set to start in September 2009 with store-openings across Asia. Priority is given to China, where the tag "'Made in Italy' is more and more appreciated by the Chinese elite," he explained.
By Jonathan Fulwell (Source: Emilie-Alice Fabrizi)
Copyright © 2023 FashionNetwork.com All rights reserved.