Bright prints and grunge look rock London Fashion
LONDON - Vibrant Asian-inspired prints, chiffon dresses with appliquéd velvet and a revived grunge look hit the catwalks on Monday as designers Peter Pilotto, Christopher Kane and Mark Fast offered up their autumn/winter 2012 collections at London Fashion Week.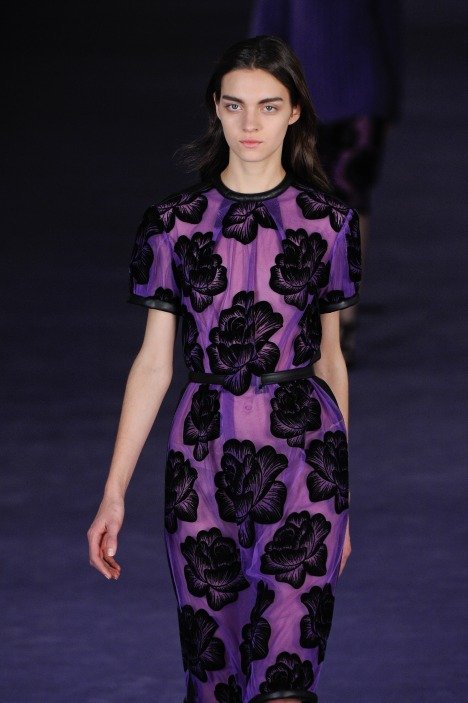 Christopher Kane - AW 2012/13 / Photo: Pixel Formula
Christopher Kane, whose runway was carpeted in plush violet and lit with two huge spotlights, showcased a mixture of leather jackets, animal print separates and chiffon dresses with velvet detailing.
Dresses in bright red, violet, dark blue flowed down the runway on models with gel-slick hair, wearing minimal make-up and chunky black heels.
Model and TV presenter Alexa Chung, a British Fashion Council Young Ambassador, attended the show alongside U.S. Vogue Editor Anna Wintour and Samantha Cameron, the wife of Britain's Prime Minister.
"I love everything about Christopher Kane. I like that he has a quite dark side, that he likes to explore, always produces very wearable, beautiful clothes," Chung told Reuters.
Pilotto and partner Christopher De Vos offered up a collection of figure-hugging dresses with Asian-inspired prints, sexy cut-out details and multi-coloured furry scarves.
Sleek stretched dresses featuring mesh panels, cut out bodices and yellow, blue and green prints set on a black background also featured in the collection.
"We find it very exciting to unite the future and the past in this way," Pilotto said.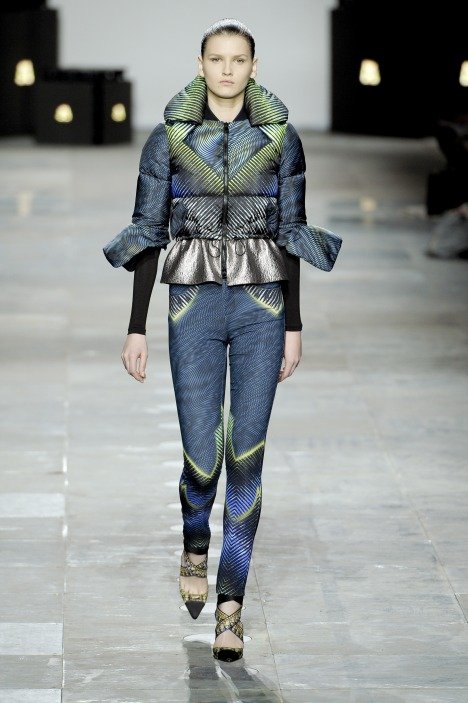 Peter Pilotto - AW 2012/13 / Photo: Pixel Formula
Graduated shades of blue punctuated designer Mark Fast's show with cerulean, azure and dark blue greys dominating a grunge theme that reaches back to the heady days of an emerging rock scene in 1990s Seattle led by the lead singer of Nirvana, Kurt Cobain.
Many of the pieces featured shaggy threads and tattered looks to give a sense of decay and edginess, Fast told Reuters.
"(It's a) Kurt Cobainish take on a cardigan with an injection of lycra," Fast said. "From seeing what I was wearing, what other people around me were wearing, came this grungy feeling."
Musician Kanye West, celebrity Peaches Geldof and TV personality Grace Woodward attended the show.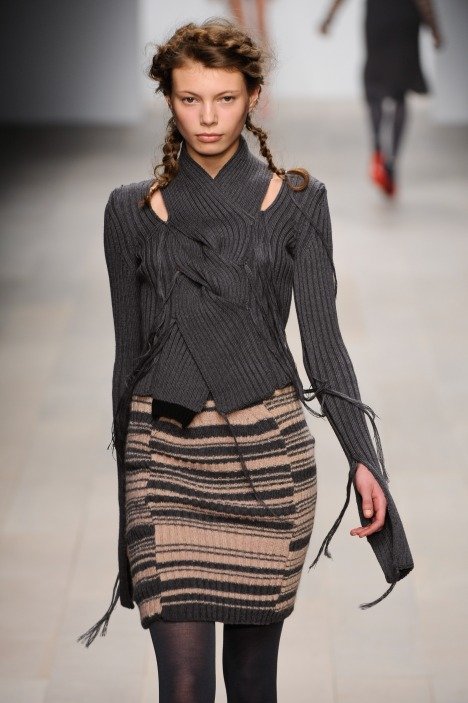 Mark Fast - AW 2012/13 / Photo: Pixel Formula
Sophie Hulme, whose presentation included a giant golden dinosaur, sent her models out in colourful sweaters and tailored coats with quirky twists, told Reuters her collection was based on toy dinosaurs and fishermen's sweaters.
The designer, who was wearing a cream shirt with lace in the shape of dinosaurs, said she looked towards menswear for inspiration and how their clothes were put together.
"They're very realistic clothes you can wear which I think is a really good evolution that seems to be happening at the moment," she said. "So I'm excited to be part of that." (Additional reporting by Ethan Bilby and Michelle Martin, editing by Paul Casciato)
© Thomson Reuters 2023 All rights reserved.