Bread&Butter launches Youngstars in July 2011
Earlier in the year, Bread&Butter announced the cancellation of its children's fashion fair Kids Camp scheduled for January 2011 due to a lack of visitors. The Berlin tradeshow thus recently had a brainstorming session in Berlin in order to discuss children's fashion and to make plans regarding the event.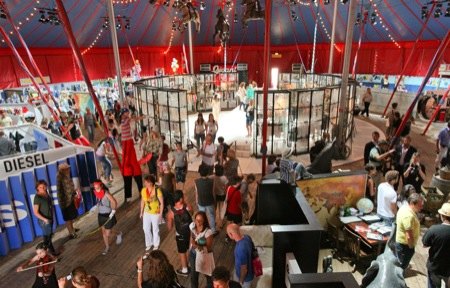 Kids Camp - July 2010
Following the meeting, Bread&Butter's co-founder Karl-Heinz Müller has clearly decided to go through with the idea of having an independent children's fashion show, and Bread & Butter will be launching 'Bread&Butter Youngstars' in July 2011. The event will take place from July 15th to 17th, just after Bread&Butter 's main tradeshow (6th to 8th).
Brands will be mainly presenting their collections inside the Denim Base at Tempelhof Airport, where the heart of the fair lies. The event will dispose of a 1,800 square meter surface area and a star has been chosen as the logo for B&B Youngstars (that of Los Angeles Walk of Fame). The Bread&Butter team will be having a second brainstorming session mid-January in Amsterdam.
Copyright © 2023 FashionNetwork.com All rights reserved.