Benetton closer to delisting after advisers' report
MILAN - The Benetton family is likely to succeed in buying out minority shareholders and delisting the retailer after financial advisers said their offer was fair, but turning around the struggling Italian company will prove harder.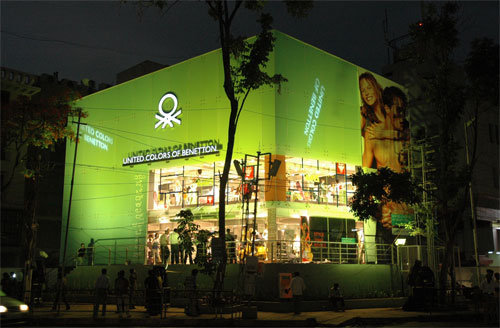 A Benetton flagship store
Both Morgan Stanley, which advises board directors, and HSBC's fairness opinion for independent board members said the 4.6 euros per share offered by the Benettons' Edizione holding last month was fair, according to the prospectus posted on Benetton's website on Saturday.
Out of eight analysts asked by Reuters, only three expected the Benettons to raise their offer, while five saw no reason to sweeten the deal considering the historically low share price at which Benetton is now trading, after a decade of stagnating sales and in a crisis-hit Italian stock market.
Shares in Benetton, famous for its brightly coloured wool sweaters, have hovered just above the 4.6 euros offered since the bid was made public at the beginning of February, and last traded at 4.646 euros.
The fairness opinion report by HSBC had been much anticipated by analysts, who said a rebuff of the offer -- a 6 percent premium to the average price of the last 12 months -- could have lured activist, foreign investors.
With no shareholder owning more than 2 percent, the offer is now likely to meet little resistance.
It would represent a better deal for the Benetton family however, which would pay up to 277 million euros to gain full control of a group whose market value has shrivelled 40 percent in 2011 to about 850 million euros, a far cry from the 4 billion euros reached in 2000.
But after a quarter of a century on the Milan stock exchange, the delisting marks the end of a tough decade for the retailer, which was hard-hit by the emergence of more-flexible rivals such as Inditex's Zara and Sweden's H&M .
CUT EUROPE EXPOSURE

Between 2000 and 2010, Benetton's revenues have remained almost unchanged, around 2 billion euros. By comparison, sales at its Spanish rival Inditex have increased almost fivefold in the meantime, to 12.5 billion euros.
Because even though its controversial advertising campaigns made the group famous the world over, it has failed to cut its exposure to slow-growing European markets over the last 10 years.
Nearly half of its sales comes from Italy, where consumers are feeling the pinch of euro zone debt crisis. It is now growing in India, but has failed to spread in China.
"What is striking with Benetton is their poor performance in Asia so far, compared to other Italian retailers," a Hong Kong based analyst said.
"Made in Italy" brands have a huge export potential with cash-rich and status-seeking consumers in Asia, it's incomprehensible that Benetton is not benefiting from this theme," the analyst said.
"Management must not have been paying attention to developments in the global consumer market for the last 10 years."
In the prospectus disclosed on Saturday, Benetton said the delisting will give management greater flexibility in the short- to medium-term to restructure the group without the market's pressure.
The group will invest heavily in its real-estate portfolio, opening new stores in prime locations to raise its visibility in strategic markets, the document said, using the group's cash-flow and credit lines.
"However, we cannot rule out that this strategy will have a negative impact on profitability and the financial profile of the group in the short-term," it added.
The buyout offer, which was approved by market regulator Consob on Friday, runs from March 5 to March 30.
Benetton appointed Morgan Stanley as financial adviser and Gianni, Origoni, Grippo, Cappelli & Partners as legal advisers.
By Michel Rose
© Thomson Reuters 2022 All rights reserved.