Barneys performance ahead of forecast
NEW YORK, June 17 (Reuters) - Barneys New York's [DBWLDB.UL] results so far this year are well ahead of its own projections, helped by revived luxury spending, though its debt load remains a drag, according to a source familiar with the matter.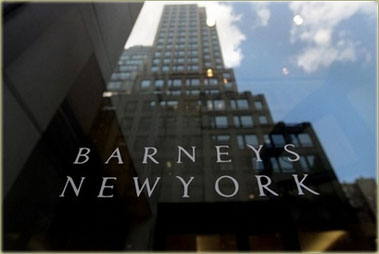 Barneys in New York - Photo : Mario Tama/AFP
Demand for fancy items at the department store chain, such as Manolo Blahnik shoes and Bottega Veneta handbags, has picked up speed since November and is lifting Barneys' earnings before interest, taxes, depreciation and amortization (EBITDA).
Barneys expects EBITDA to rise by as much as $40 million in 2010. The retailer's current 2010 forecast is 75 percent greater than the original estimate it gave lenders, the source told Reuters on Thursday.
But Barneys, which was by bought Dubai World [DBWLD.UL] unit Istithmar for $942 million from Jones Apparel Group Inc (JNY.N) in 2007, continues to grapple with large debt service payments. The Istithmar acquisition left it with a crippling $660 million debt load, according to Thomson Reuters data.
Factoring in all expenses, including interest, Barneys could lose about $60 million this year, according to a New York Post article on Thursday.
Last week, ratings agency Standard & Poor's affirmed Barneys' 'CCC' corporate credit rating, saying in a note that "although performance has improved recently, we remain concerned that New York-based Barneys New York Inc's capital structure is unsustainable."
RISING TIDE
Barneys rivals such as Saks Inc (SKS.N) and Neiman Marcus Group Inc [NMRCUS.UL] have also seen a strong uptick in sales.
Sales at Saks stores open at least year were up 6 percent in the 4-month period between late January and late May, while at Neiman Marcus Group, comparable sales rose 9.1 percent in the three months ended on May 1.
At the height of the consumer spending meltdown last year, Istithmar provided Barneys with money so it could pay for shipments.
In April, Istithmar pumped millions into Barneys to fund such efforts as the new Prada men's shop at Barneys' Madison Avenue store in New York City, the source said.
Earlier this month, Barneys Chief Financial Officer Vince Phelan told the Reuters Global Luxury Summit that Istithmar was willing to provide capital as needed. However, its resources are limited as parent Dubai World works on restructuring $23.5 billion in debt.
Retailers up and down the price chain generally have enjoyed a boost to their gross margins by keeping inventories low, reducing the need for discounting. Barneys inventories are roughly 10 percent lower than they were last year at this time.
The upscale retailer has been without a chief executive since Howard Socol resigned in 2008. Istithmar is looking more actively for a CEO now that Barneys and the economy's fortunes are improving, the source said.
(Reporting by Phil Wahba; Editing by Michele Gershberg and Richard Chang)
© Thomson Reuters 2023 All rights reserved.