Armani has no plans to sell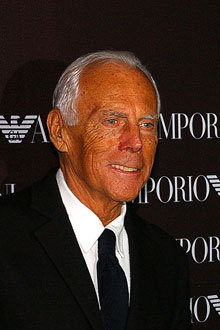 Giorgio Armani / Photo: Jan Schroeder
MILAN - Giorgio Armani, the 77-year-old designer is seeing double digit growth in his business and has no plans just yet to let go of the reins of his eponymous fashion house, he was quoted as saying on Thursday.
Armani told Il Sole 24 Ore in an interview he was still personally involved in all decisions at the group.
"At the moment... I am resisting all temptations (to sell), there are certainly many but they don't lure me," he said when asked if he would eventually sell to a French giant such as beauty product partner l'Oreal.
Armani's comments come almost a year after Italian luxury goods companies Prada and Salvatore Ferragamo launched their own IPOs.
In 2011 Armani saw a 13.6 percent rise in revenues to 1.8 billion euros ($2.27 billion) and was sitting on cash to the tune of 643 million euros.
"In the first quarter of 2012, sales have seen double-digit growth both in wholesale and retail," he said.
Armani said the company would continue to focus on China where sales grew by 45 percent last year.
"But we are set to expand our presence in Brazil without forgetting traditional markets such as the United States," he said.
© Thomson Reuters 2023 All rights reserved.