Armani has $850 million, no plans to list: report
May 24 - Italian designer Giorgio Armani has 604 million euros ($850 million) cash and no plans for a listing or sale of his company, he said in an interview published on Tuesday.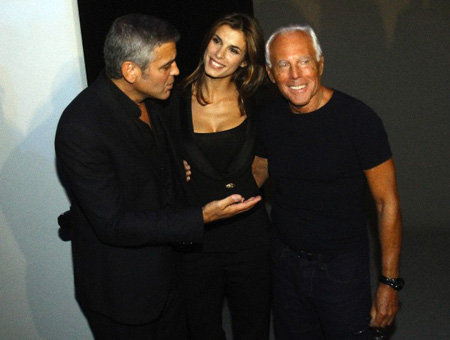 US actor George Clooney with his Italian girlfriend, actress Elisabetta Canalis and Giorgio Armani at his presentation of his spring-summer 2011 women's collection, in Milan, Italy, 20 September 2010 (Photo: Corbis)
Armani told Il Sole 24 Ore newspaper he would continue to invest in his own brand and company. He did not exclude possible acquisitions "but that would be a novelty given what has been done up to now," he said.
Revenues last year were up 4.6 percent to 1.59 billion euros. Earnings before interest, tax, depreciation and amortization rose 47.5 percent to 322 million euros, the newspaper said. Net profit jumped 81 percent to 161 million euros and cash was a record 604 million euros.
"I have always associated good cash liquidity with the concepts of independence and solidity," said Armani, 76.
"This way, the advantage is in being able to fix unforeseen situations or take advantage of important opportunities."
Armani's comments come as a growing number of luxury goods companies have been looking to go public. They include Italian groups Prada and Salvatore Ferragamo and outerwear maker Moncler.

(Reporting by Ian Simpson; Editing by Dan Lalor)
© Thomson Reuters 2022 All rights reserved.