Armani, Dolce & Gabbana in a tiff over trousers
MILAN (Reuters) - Italy's top designers are squabbling over a pair of padded trousers, with Giorgio Armani accusing Dolce & Gabbana of copying him and the duo in turn saying the doyen of fashion has nothing to teach them.
"Surely we still have much to learn, but definitely not from him," Domenico Dolce and Stefano Gabbana said in a statement on Monday.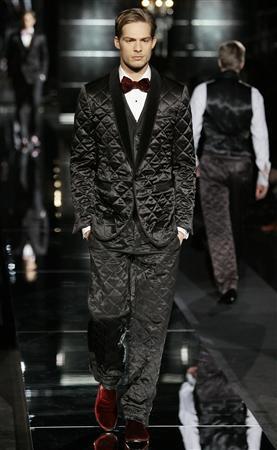 Their menswear show on Saturday included quilted-silk trousers and on Sunday, Emporio Armani's show included a pair of trousers which also used the technique.
Armani, speaking to journalists after his show, said: "Now they copy, later they will learn," when asked about the Dolce & Gabbana trousers, Italian news agency Ansa said on Sunday.
"They are the same as ours," Armani's assistant Leo Dell'Orco said, according to La Repubblica newspaper on Monday.
Dolce & Gabbana retaliated with a statement saying Armani "never has been an inspiration source for us and we stopped seeing his fashion shows years ago."
All three designers are icons of Milan's fashion scene and shot to fame over 20 years ago when their creations put the city at the center of the pret-a-porter scene.
In their statement, Dolce and Gabbana -- known for their use of gold and baroque embellishments -- said their style was globally recognized.
"As Picasso used to say, copying from others is inevitable, but copying from oneself leads to sterility," they said.
Armani had no comment when contacted by Reuters.
(Reporting by Jo Winterbottom, editing by Paul Casciato)
© Thomson Reuters 2022 All rights reserved.