Arcandor gives up hopes of finding anchor investor
FRANKFURT, Aug 12 (Reuters) - Insolvent German tourism and retail group Arcandor (AROG.DE) said its had given up hopes of finding a new anchor shareholder and would focus on finding an investor for its department stores and its mail-order business.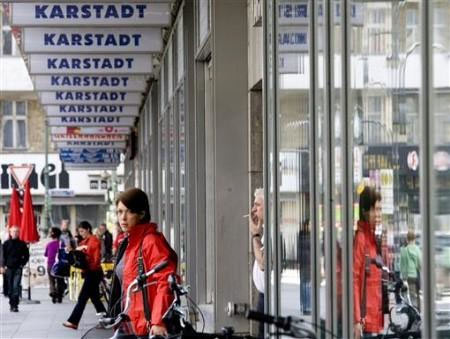 Photo: Reuters
"Due to most recent developments and a difficult market environment the prospects for attracting an anchor investor allowing the Group to continue as a going concern are by now considered to be extremely low," Arcandor said on Wednesday 12 August.
It said it would abandon its search for a new anchor investor on Aug. 15.
Shares of Arcandor dropped 8.6 percent to 0.32 euros by 1431 GMT, while the German midcap index was up 0.9 percent.
Arcandor filed for insolvency in June after its request for state help failed. Chief Executive Karl-Gerhard Eick has been keen to find ways to prevent the group from being broken up.
Its business comprises the German Karstadt department stores, its Primondo mail-order business and its stake in tour operator Thomas Cook (TCG.L). German retailer Metro (MEOG.DE) previously said it may be interested in some Karstadt outlets.
Arcandor's leading banks have been pushing for the sale of its stake in Thomas Cook, of which they hold 43.9 percent as collateral. It had previously held about 53 percent of Thomas Cook.
(Reporting by Maria Sheahan)
© Thomson Reuters 2022 All rights reserved.