American Eagle: Winds of change keep investors guessing
March 29 - It's a time of change at American Eagle Outfitters Inc , and all the activity is dividing experts on what to do with the shares of the teen clothes retailer.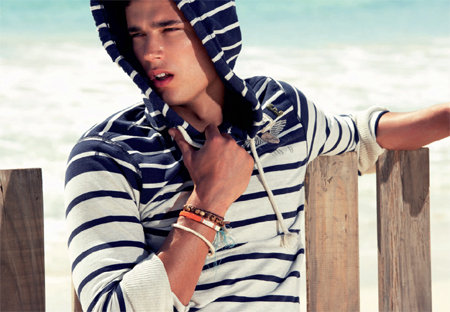 From American Eagle's Summer 2010 collection
The Pittsburgh, Pennsylvania-based company is fighting a daily battle to balance sales and margins, even as it gets ready for the retirement of its chief executive of 9 years and deals with continued buzz that it is a potential takeover target.
The stock, trading at 15 times forward earnings compared with 16 times for the wider apparel retail sector, has risen 5 percent since the company announced its CEO retirement and posted a bigger quarterly profit earlier in the month.
However, the shares have lost more than 20 percent since last year, weighed down by rising concerns of margins and sales sustainability.
While a steady supply chain, cheap valuation and growing concepts like its lingerie chain Aerie make it a compelling investment for some, looming pressure on margins and very little pricing power have made others take a wait-and-watch attitude.
WHY BUY?
"American Eagle is a good brand, and until the last couple of years they have had a history of really good profitability. They have a rock-solid balance sheet, they are over capitalised, and they are interesting," Jay Kaplan, portfolio manager at Royce & Associates, said.
According to regulatory filings, New York-based Royce & Associates owned about 5 percent of the company as of Dec. 31, 2010.
Kaplan said he does not make investments based on possible takeovers, but added that he suspects "there are people who are wishing that their big long positions will cover (possible) takeover dates as well."
Andrew Beck, president and portfolio manager at Louisville, Kentucky-based River Road Asset Management raised his investment in American Eagle in December, saying the stock is undervalued, and the company's positioning makes it a compelling investment.
"Unlike an Aeropostale that focuses on graphic t-shirts, which is their niche, Eagle has broader appeal, but at cheaper price points than an Abercrombie & Fitch ," he said.
Both Beck and Kaplan said the company's stock has not factored in the boost that could come from its Aerie and 77kids businesses -- making them look beyond near-term fears like margin pressure and cost increases.
"The fear over margin compression is a very legitimate fear, but that's when you buy them. And if you are a great brand, you know it's going to normalise. For us, American Eagle is that opportunity," Beck said.
PRESENT: TENSE
Betty Chen, speciality apparel analyst at Wedbush Securities, however, would rather look past the takeover chatter and the potential boost from Aerie to focus on the current scenario.
"Eagle has been trying to attract the 16-18 year-olds and those clients have been shopping more at the Forever 21s. It gets difficult for Eagle to compete against that," she said.
American Eagle's USP -- jeans and t-shirts and sweatshirts -- depend on cotton very heavily, and like peers, the company will have to raise prices to accommodate a rise in the cost of raw materials.
However, its client base has long grown accustomed to shopping at fast fashion retailers that sell at big discounts, and that makes it tough for the company to paste dramatically high price-tags on its clothes without running the risk of losing customers.
"First they have to figure out a way to adapt the fashion, increase the frequency of deliveries, but at the same time be competitive on pricing," Chen added.
The analyst is cynical about any stock boost coming from management changes and buyout rumors.
"We believe some investors are hopeful that this transition could open up potential dialogue with PE firms which could value American Eagle at $20-25 a share," Chen said separately in a note.
"While we acknowledge potential PE interest could drive the shares higher, we believe the company will likely remain standalone," she said.
(Reporting by Nivedita Bhattacharjee; Editing by Saumyadeb Chakrabarty)
© Thomson Reuters 2023 All rights reserved.