American Eagle closing Martin + Osa
By Lisa Baertlein and Alexandria Sage
LOS ANGELES/SAN FRANCISCO, March 9 (Reuters) - American Eagle Outfitters Inc (AEO.N) said on Tuesday 9 March it will close all 28 stores in its Martin + Osa clothing chain and the chain's online business.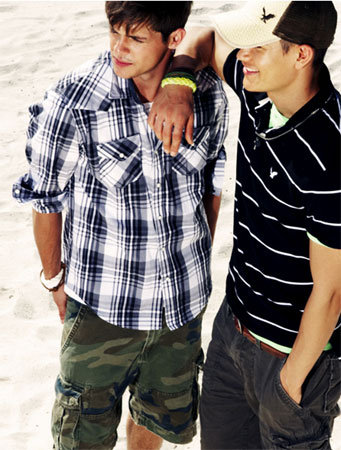 American Eagle Outfitters
The 3-year-old chain, which started out aiming for customers in their mid-30s, racked up an after-tax loss of $33 million in 2009, excluding impairment charges, American Eagle said in a statement.
"That's a huge loss. That really says it all," said Eric Beder, an analyst with Brean Murray Carret & Co.
He noted that the brand would join Abercrombie & Fitch Co's (ANF.N) Ruehl chain and Aeropostale Inc's (ARO.N) Jimmy'Z among failed concepts by companies whose main brands cater to teens.
"Our view is 'Finally ...'," Jefferies & Co analyst Randal Konik wrote in a client note. "This announcement removes a key overhang on the stock."
The chain, launched in 2006 before the recession, had stores in 17 states, but its largest market was California, where it had six locations. California was especially hard hit by the recession.
Named after 20th century American adventurers Martin and Osa Johnson, the chain failed to stake a claim on its target market of mid-30s men and women. The mall-based chain also had competition from department and specialty stores.
The company said it hopes to have all of the stores closed by the end of July, which is the end of its fiscal 2010 second quarter.
In fiscal 2009, Martin + Osa generated an after-tax loss of $44 million, including a non-cash impairment charge of $11 million, net of tax.
The company said it expects the related fiscal 2010 cash outflow, net of associated tax benefits, to be between $10 million to $40 million after taking account of pre-tax charges of $32 million to $77 million for lease-related, severance and other charges.
In addition, the company expects around $29 million of non-cash, pre-tax impairment charges and inventory write-downs. American Eagle said it planned to book the charges over the first and second quarters of fiscal 2010.
The company said it would focus on the American Eagle family of brands including AE, its teen lingerie chain aerie and 77kids, which it said have a greater potential of creating long-term shareholder value.
American Eagle said in March that February same-store sales had risen 6 percent and it affirmed its fourth-quarter earnings outlook of 32 cents to 33 cents per share, excluding items. Analysts, on average, have been expecting 33 cents per share.
American Eagle is due to report its fourth-quarter financial results on Wednesday 10 March.
"While this is clearly a positive for the stock, we believe investor focus is turning more toward the core American Eagle business where recent signals have pointed to margin weakness," Konik said.
"It reflects a management team seeking to start the year on a clean slate, or in other words deciding not to throw good money after bad," Wall Street Strategies analyst Brian Sozzi wrote in a note.
Shares of American Eagle rose to $18.18 in extended trading after closing at $17.15 in the regular session. (Additional reporting by Martinne Geller in New York; Editing by Tim Dobbyn)
© Thomson Reuters 2023 All rights reserved.