American Apparel avoids covenant breach; shares rise
Oct 1 (Reuters) - American Apparel Inc (APP.A) amended its credit agreement with Lion Capital, earning a reprieve from an impending default on a debt covenant, and said the UK-based lender was working to realign the clothing firm's capital structure with CEO Dov Charney.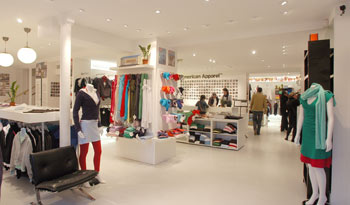 American Apparel. Photo : Pixelformula
Lion Capital is also working with Charney, an outspoken chief seen as the creative brains behind the company, on hiring new senior executives, the company said.
Shares of the company rose as much as 20 percent to $1.47 Friday morning on the American Stock Exchange.
American Apparel, known for its "Made in USA" clothing, pro-immigration stance and racy advertising, has been criticized for lax financial controls and lack of strong senior management. The 279-store chain had previously warned it could default by the end of this month on its loan agreement with Lion Capital.
The amendment eliminates the minimum consolidated EBITDA covenant for the rest of 2010, but provides for that minimum to be tested each month next year.
(Reporting by Nivedita Bhattacharjee in Bangalore; Editing by Ian Geoghegan, Anthony Kurian)
© Thomson Reuters 2023 All rights reserved.