Alexon to raise £20.3 million in discounted stock sale
March 5 (Reuters) - British fashion retailer Alexon Group Plc (AXN.L) said on Friday 5 March it planned to raise about 20.3 million pounds through a stock sale, primarily to reorganise its property portfolio.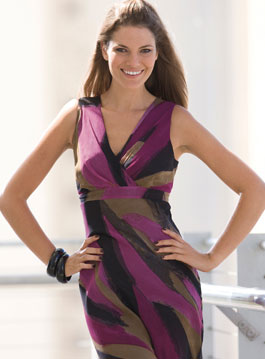 Roman Holiday by Minuet, an Alexon brand
The company, which put its Bay Trading unit into administration in April 2009, said it identified 63 onerous leases on unfavourable commercial terms and locations.
Shares of Alexon fell 5.2 percent to 32 pence at 1352 GMT on the London Stock Exchange.
Alexon said it proposed to sell 101.6 million shares, or a 69.1 percent stake, through a firm placing and an open offer at 20 pence a share, representing a 40.7 percent discount to the stock's Thursday 4 March close.
Net proceeds from the stock sale would be about 18.3 million pounds.
The company, whose brands include Ann Harvey, Eastex and Dash, said it expected to save about 5.2 million pounds ($7.8 million) per year through the reorganisation of its property portfolio.
Alexon also said it would enter into new bank facilities with Barclays (BARC.L), including an 8 million-pound revolving credit facility and a 6 million-pound amortising term loan.
The company said it did not expect adjusted loss from continuing operations to be greater that 1.0 million pounds for the year ended Jan. 30.
For the four weeks to Feb. 28, its like-for-like sales were down 3.7 percent.
($1=.6654 Pound) (Reporting by Tresa Sherin Morera in Bangalore; Editing by Anne Pallivathuckal)
© Thomson Reuters 2022 All rights reserved.