Aeropostale, Abercrombie shares fall on fashion misses
Shares of teen apparel retailers Aeropostale Inc and Abercrombie & Fitch Co fell sharply on weak earnings forecasts, as their relatively high-priced merchandise fail to strike a chord with shoppers looking for cheaper options.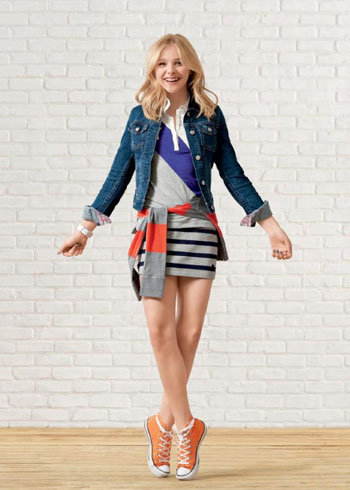 Chloe Moretz for Aeropostale / Photo: Aeropostale
Aeropostale shares were trading down 32 percent at $13.18, while those of Abercrombie were down 15 percent at $28.84 on Thursday on the New York Stock Exchange.
Both companies have been changing merchandise assortments and tweaking inventory levels to better appeal to customers drawn to the fast-fashion retailers that are able to more quickly keep up with the latest fashion trends.
The retailers have also been forced to discount as consumers prioritize spending on discretionary items in a weak economy.
"Teens are demanding fashion and fashion at very reasonable price points," Brian Sozzi of NBG Productions said.
Aeropostale's and Abercrombie's woes also contrasted sharply with rival American Eagle Outfitters Inc, which raised its second-quarter forecast on improved fashions and leaner inventory.
Aeropostale said it now expects to break even in the second quarter, down from its previous forecast of a profit of 3 cents to 5 cents per share.
Analysts were expecting earnings of 6 cents, according to Thomson Reuters I/B/E/S.
Same-store sales in the quarter, excluding the e-commerce channel, were down 1 percent.
Abercrombie forecast full-year earnings of $2.50 to $2.75 late Wednesday, well below analysts estimates of $3.35 a share.
The company expects same-store sales to be down 10 percent in the second half of the year.
© Thomson Reuters 2023 All rights reserved.