Adler designing holiday "adorableness"
By Aarthi Sivaraman
NEW YORK (Reuters) - "Happy chic" designer Jonathan Adler has a clear view of how the 2009 holiday season will look in his stores -- a "crack den of adorableness."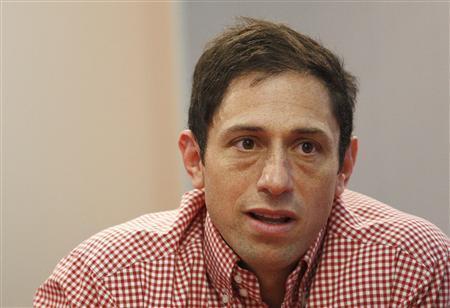 Adler, who designs high-end home goods from sofas to salt shakers, expects his 2009 holiday sales to increase 15 percent after a similar rise in 2008 holiday revenue -- a period when the overall retail industry suffered its worst hit in nearly 40 years.
"I'm expecting to do the same. God knows I've been working hard to deliver the stuff," Adler said at the Reuters Global Luxury Summit in New York.
"Christmas is huge in the gift (business), so it is really my season," Adler said. "I have written in giant letters on the corkboard behind my desk -- 'irresistible giftables.' That is my mandate. I hope that when you walk into my store you will feel like you're in a crack den of adorableness."
Home goods sales have dwindled in the past year, hurt by a prolonged downturn in the U.S. housing market and tight access to credit. Mounting job losses in the recession have added to consumers' problems and forced them to spend sparingly on expensive items they do not use on a daily basis.
Though the home goods sector has been ailing for months, Adler said he has managed to thwart the sales pressure by being creative and putting "hard to resist" items on store shelves.
For instance, items such as a $48 pair of salt and pepper shakers and a $48 banana-shaped vase are seeing strong demand, while bigger items are a tougher sell, Adler said.
Adler's more expensive designs include a $6,400 sofa and $1,650 mirror.
"Luxury is on people's radar and if you deliver creative, great stuff, they'll still buy it -- it's not like the world has come to an end," Adler said.
Adler sells his merchandise in Barneys New York stores and designs interiors for luxury homes as well as hotels. Most recently, he signed a deal with the world's No. 1 toy maker Mattel Inc (MAT.N) to design Barbie-themed decorative home goods such as pillows and pottery, which Mattel said will be in the $20 to $250 price range.
This year, Mattel has built a massive campaign including fashion shows and a new flagship store in Shanghai to refresh demand for the 50-year-old Barbie, whose sales have declined in recent months.
While Adler does not have plans to sell his products in mass retail store chains, he is looking to open more of his own stores. Adler currently has nine stores in the United States, ranging in size from 800 square feet to 2,800 square feet.
On top of his wish list -- a store in London.
"I'm dying to go abroad and one of my dreams has always been to open in London because I'm a raging Anglophile; but I think one needs a British partner to do it, and it just has not been the lowest hanging fruit for me but is a huge opportunity. Please, if any brilliant British retailer (and) potential partner reads this -- call me," Adler said.
Being a small player and not being burdened by debt has allowed him a lot more freedom than bigger rivals, Adler said, adding that he was containing costs by keeping a close eye on staff levels and inventory.
A partnership with a bigger company is also not out of the question, Adler said. He said the right deal would be a mix of the right price and the freedom to express his creativity.
He declined to say with which companies he has been holding talks.
(Reporting by Aarthi Sivaraman, editing by Gerald E. McCormick and Matthew Lewis)
© Thomson Reuters 2023 All rights reserved.