Adidas sidesteps toning shoe health rebuke
MOSCOW, Oct 11 (Reuters) - Adidas (ADSGn.DE) will invest more in toning shoes, confident that customers will continue to buy even after the U.S consumer watchdog raised doubts over their health benefits, the German group's chief executive said on Tuesday.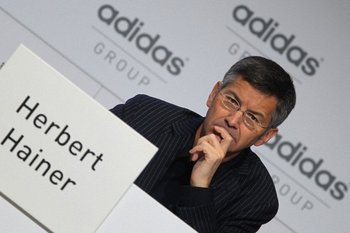 Adidas CEO Herbert Hainer
"We haven't seen a slump in sales," Herbert Hainer told journalists in Moscow.
Adidas unit Reebok last month agreed to pay $25 million to settle charges that it made unsupported claims that its toning shoes help wearers get fit faster.
Hainer told Reuters Insider television on Tuesday that Adidas would invest more in the category and that consumers were happy with its products.
"We will bring out new products and will further extend into the apparel segment," he said.
The Federal Trade Commission criticised advertisements by Reebok that its shoes strengthened hamstrings and calves by up to 11 percent more than regular sneakers and toned the buttocks up to 28 percent more.
Hainer said Reebok had changed the advertising to no longer include percentages, stressing that Adidas did not agree with the FTC allegations.

YOUNG FASHION
Adidas also has high hopes for its Neo fashion brand, aimed at teenagers who expect a new range of products in stores every month. Hainer said the brand has a sales potential of 1 billion euros ($1.36 billion) in the next five years.
The range is available in China and Russia and will be launched next in Germany. If it's successful in Adidas' home market then it will be rolled out quickly worldwide, Hainer said.
Hainer also confirmed that Adidas, which has enjoyed soaring consumer demand for its sneakers and sportswear this year, was on target to meet its group gross margin target of 47.5-48 percent for 2011.
While Adidas is seeing falling costs for some raw materials such as cotton, this is being offset by rising labour costs in China, he said.
Market leader Nike (NKE.N) and smaller German rival Puma (PUMG.DE) have all raised prices this year to offset higher raw material costs, such as for rubber and cotton.
($1 = 0.732 Euros)
(Reporting by Christian Kraemer; Additional reporting by Kiryl Sukhotski;Writing by Victoria Bryan; Editing by Erica Billingham)
© Thomson Reuters 2022 All rights reserved.