Adidas sets targets to overtake Nike
FRANKFURT, Nov 8 (Reuters) - German sporting goods company Adidas (ADSGn.DE) aims to grow sales to 17 billion euros ($24 billion) by 2015, up two thirds on 2009 levels, as it strives to overtake market leader Nike (NKE.N). "Our aspirations are to outperform total market growth ... to outgrow our major competitor and have the bottom line grow faster than the top line," chief executive Herbert Hainer said on Monday in a presentation to analysts.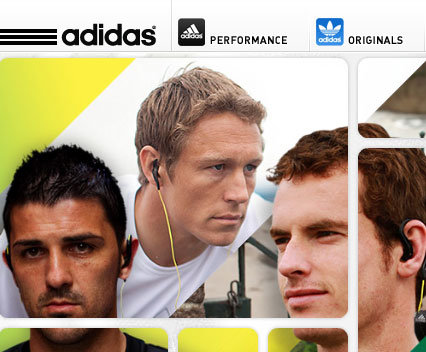 Adidas.com
Last week, Adidas reported strong third-quarter results, lifted by U.S. and eastern European growth, and said it expected 2010 sales to grow 8 percent at constant currency rates from 10.4 billion euros ($14.6 billion) in 2009.
Nike recorded sales of $19 billion in its year to May 2010, though it is aiming to reach $27 billion by 2015, so it would still be ahead of Adidas if both met their targets.
Shares in Adidas were up 1.6 percent at 47.06 euros by 1342 GMT, one of the top gainers on Germany's blue-chip index .GDAXI, although off earlier highs of 47.70 euros.
"The new strategy plan is very promising and is encouraging investors after strong results," a trader at Frankfurt's Alpha brokerage said.
Adidas, the world No. 2, said its key growth markets would be North America, Greater China, Russia/CIS, Latin America, Japan, Britain and India.
Hainer said 50 percent of sales growth would come from just three of these markets - the United States, China and Russia.
In China, where it returned to growth in the third quarter after 18 months beset by overstocking and discounting, Adidas is eyeing double-digit percentage growth for each of the next five years, Hainer added.
ADIDAS, REEBOK GROW
Under the new strategic plan, named "Route 2015", Adidas is targeting a compound annual earnings growth rate of 15 percent, faster than sales growth, and an operating margin of 11 percent by 2015 at the latest.
Hainer said the Adidas and Reebok brands would account for more than 90 percent of the planned 45-50 percent increase in sales.
Erich Stamminger, global head of brands, said sales at the Adidas sport performance brand, aimed in particular at athletes, soccer and basketball players, would grow to 8.5 billion euros from 6.2 billion.
Sales at the other Adidas brands, which have more of a style and fashion focus, would grow to 3.7 billion euros from 2 billion, while Reebok sales would rise to 3 billion from 1.9 billion.
"Just one of these divisions will be as big as the Number 3," Stamminger said, referring to local rival Puma (PUMG.DE), which last year had sales of 2.5 billion euros.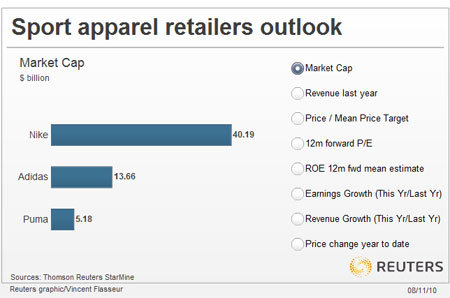 Graphic on sports apparel retailers
Hainer also said Adidas, which acquired Reebok in 2006, would continue to play a role in consolidation of the sector.
"It stands to reason that the Adidas group will continue in its role as 'Consolidator-in-Chief', taking market share through organic growth or exploring other business opportunities if they align with the strategic brand priorities," he said.
He reiterated though that Adidas was not interested in buying any outdoor brands, following speculation the group would seek to buy German company Jack Wolfskin.
(Additional reporting by Josie Cox; Editing by Will Waterman) ($1=.7123 Euro)
© Thomson Reuters 2023 All rights reserved.