Adidas pins hopes on World Cup as sales stumble
FRANKFURT, Germany - Adidas said it was looking ahead to the sales opportunities offered by next year's soccer World Cup in Brazil, after third quarter results showed it continued to lose ground to larger rival Nike in Europe.
Adidas, the world's No. 2 maker of sports gear, said third quarter operating profit dropped 6 percent while sales fell 7 percent, hit by distribution problems in Russia, currency effects and poor sales of golfing products.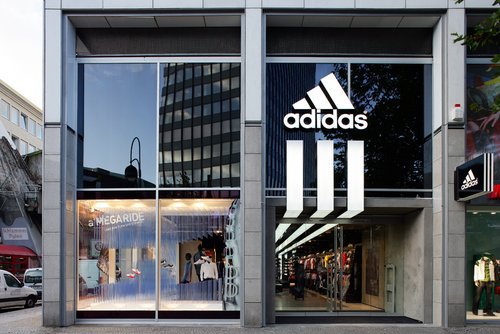 Adidas in Berlin
Last year, results were boosted by the Olympics and the European soccer championships. But Adidas has struggled to maintain momentum , warning on sales and profit in September. Adding to its woes, Nike has outperformed on its home turf.
Nike reported an 8 percent rise in sales in western Europe in its first fiscal quarter to the end of August, compared with a fall of 6 percent for Adidas at constant currencies in its third quarter.
Adidas Chief Executive Herbert Hainer said next year's World Cup and positive feedback for its upcoming collections meant growth would return.
The leader in the $5 billion soccer market traditionally performs well in years with major sporting events and has forecast record soccer sales of more than 2 billion euros ($2.7 billion) in 2014.
"We have dealt swiftly and decisively with our challenges in the third quarter, to ensure we return to growth," Hainer said in a statement on Thursday. "Momentum will clearly return to our business in the fourth quarter and beyond."
Despite the fall in sales and operating profit, the group managed to improve its gross profit margin - a key measure of profitability in the apparel industry - 1.9 percentage points to 49.3 percent in the quarter as it pushed through higher prices and made more sales in its own shops.
SHAKE UP
With the World Cup and more new products to come, analysts believe the worst is over after the third quarter.
"All the bad news (is) on the table now," DZ Bank analyst Herbert Sturm wrote in a note. "From now on we expect a series of positive news flow in the next months to come."
Shares in Adidas, which hit a record high of 88.50 euros in August, were up 2.1 percent at 85.10 euros by 0842 GMT, outperforming a flat wider market.
To boost growth in Europe and North America, Adidas last month shook up its management structures in the regions.
It has already started promoting products for the World Cup, using Barcelona star Lionel Messi to launch a new range of brightly colored Samba soccer boots this week.
And in a bid to outdo Nike's popular Fuelband fitness monitor, it last month unveiled a new running watch that can track the wearer's run, offer coaching tips and play music.
According to Euromonitor, Adidas had a 13.2 percent share of the western European sporting goods market in 2012, just ahead of Nike on 12.4 percent. Analyst Magdalena Kondej believes the gap will have closed this year, but that Nike has not yet overtaken Adidas.
"Losing leadership in Western Europe - their home market - would be a very tough pill to swallow," she said. "But they recognize the threat and they continue focusing on innovation. That puts them in a good position once European markets recover."
A bright spot for Adidas this year has been the Reebok brand, which saw sales rise 5 percent in the three months to end-September, the second quarter in a row of growth as a renewed focus on fitness pays off.
For the third quarter, Adidas reported sales of 3.88 billion euros and operating profit of 463 million ($626 million), both slightly below the average estimates in a Reuters poll.
The company maintained a forecast for sales to rise by a low single digit percentage in 2013 and to achieve an operating margin of around 8.5 percent.
© Thomson Reuters 2023 All rights reserved.