Abercrombie sees profit below forecasts, shares drop
Teen clothing retailer Abercrombie & Fitch Co estimated quarterly profit at about half what analysts expected after sales in stores open at least a year fell 10 percent.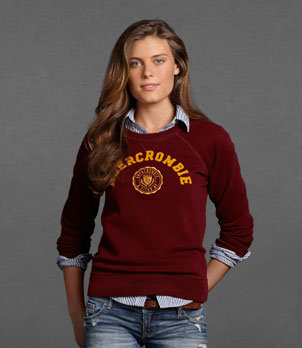 Photo: Abercrombie
Abercrombie shares fell almost 15 percent to $29 in after-hours trading on Wednesday.
The company, which also said it planned to cut back on store openings, estimated earnings of 15 cents to 18 cents a share for the second quarter, ended July 28. Analysts on average forecast 32 cents a share, according to Thomson Reuters I/B/E/S.
Abercrombie's sales and profit estimate were in contrast to those of rival American Eagle Outfitters Inc, which raised its second-quarter earnings estimate above Wall Street expectations on Wednesday, as a better product mix lured shoppers to its stores.
American Eagle has been revamping its merchandise so it can keep pace with the fast-changing fashion trends and keep up with its young clientele. The company has also stayed focused on the United States, while Abercrombie has been expanding overseas, leaving it vulnerable to the slumping European economy.
"American Eagle is showing more fashion and they are showing it more often. They are also showing Wall Street that they can keep their inventories lower," Brian Sozzi, chief equities analyst at NBG Productions, said.
The fall in sales at stores open at least a year is the second consecutive drop at Abercrombie, which also said inventory rose 20 percent from a year ago while margins fell. Sales were weakest in June, the company said.
"Macroeconomic conditions remained very challenging during the quarter, particularly in Europe but also increasingly in the U.S.," Abercrombie Chief Executive Mike Jeffries said in a news release.
The news from Abercrombie comes on the heals of disappointing results from leather goods maker Coach Inc and a weak outlook from jeans maker True Religion Apparel Inc. All three target somewhat higher end consumers.
"We have Abercrombie, we have Coach, we have True Religion. I'm seeing a pattern here," said Patricia Edwards, chief investment officer at Trutina Financial.
Analysts also questioned whether Abercrombie's clothes were appealing to customers that have seen rivals refresh their assortments more quickly while offering less expensive clothes.
"They either don't have the right merchandise in the store at the right time or they need to do something that makes them more adaptive to current times," Morningstar Inc analyst Jaime Katz said.
For the year, Abercrombie said it now expects earnings of $2.50 to $2.75, with same-store sales down 10 percent in the second half of the year.
Analysts on average forecast full-year earnings of $3.35 a share.
Abercrombie said it will give a strategic update when it reports quarterly earnings on August 15. But it said it expects to cut the number of Hollister chain store openings to 30 from a planned 40 this year and reduce the number of international store openings.
"I think they have too many stores in the U.S. and they need to curtail what they're doing internationally. They've gone too aggressively opening giant stores," Sozzi said.
While Abercrombie offered a disappointing estimate, American Eagle said it expects adjusted earnings of 19 cents to 21 cents, compared with prior view of 13 cents to 15 cents in last year.
Analysts on average expect the company to earn 15 cents, according to Thomson Reuters I/B/E/S.
Same-store sales rose 9 percent, the company said.
American Eagle shares rose 7 percent to $21.75 in aftermarket trading.
© Thomson Reuters 2023 All rights reserved.