Young, dapper and tailoring change on Savile Row
By Paul Casciato
LONDON (Reuters Life!) - The next generation of Savile Row tailoring set out its stall this week, revealing a gentle change to centuries of sartorial service.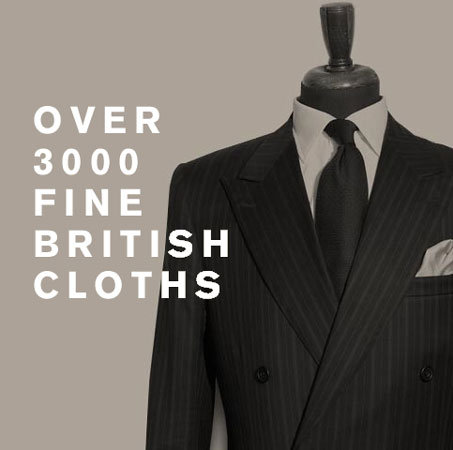 Photo: www.nortonandsons.co.uk
The 30-something owner of Savile Row stalwart Norton & Sons held an open house that attracted the hip and the young to a gentlemen's bastion that has dressed kings, generals, captains of industry, actors and the aristocracy for centuries.
Patrick Grant, an Oxford MBA from Edinburgh with a passion for clothes, bought the failing business four years ago despite objections from his mother, but with an eye on the tailor's heritage and a long list of faithful clients.
"I've always been into clothes," Grant, 37, told Reuters standing among the suits, military tunics and hunting trophies that dot the club-like rooms of Norton & Sons. "I started wearing my dad's suits when I was 16 or 17."
Grant became the first Savile Row denizen to take part in London Fashion Week last year and as part of men's day this year, invited journalists and the fashion crowd to review his spring/summer 2010 ready-to-wear range: E. Tautz.
The collection of handmade modern suits, trousers, sweaters, ties, shirts and coats at slightly lower prices, provide the opportunity to buy into a revived Savile Row name without breaking the bank on bespoke clothes.
The line is sold at luxury London department store Harrods, high fashion retailer Matches and Beams in Japan, with suits around 2,250 pounds ($3,597), knitwear at 170 pounds and ties around 70 pounds.
Plans for a New York retailer to carry the clothes -- under the revived label of 19th century Savile Row tailor Edward Tautz, which prided itself on being tailors to some of America's best-dressed men -- are under way.
ARISTOCRATIC PEDIGREE
Assembled guests at the launch delivered an approving murmur to Grant's re-invention of a firm which has dressed such impeccably attired figures as Winston Churchill and film stars Cary Grant, Fred Astaire and Tony Curtis.
Established in 1821, Norton & Sons flourished selling bespoke -- hand-sewn, hand-cut and individually fitted -- clothing to Europe's young, sporting elite and holds Royal Warrants to Emperor Wilhelm I of Prussia, the King of Italy and the Duc d'Aosta.
Other clients included explorer Wilfred Thesiger, last Viceroy of the British Indian Empire Lord Mountbatten and clan chief, diplomat and adventurer Fitzroy McLean, for whom the firm made everything from dinner suits to racing silks.
The E. Tautz label now aims to create modern ready-to-wear British tailoring using bespoke techniques.
"Patrick Grant's renovation of a conventional label has become much more modern," GQ magazine Associate Editor Robert Johnston told Reuters.
But fusty colonels, business titans, heads of state and aging rock stars whose attire are all carefully managed on the Row needn't be alarmed.
The hand-cutters and tailors of Norton & Sons and other famous Savile Row outfits such as Gieves & Hawkes will continue to meet their needs in the intimate and discreet manner that keeps the Row close to their hearts and wallets.
British Fashion Council Chairman Harold Tillman said the creeping modernization in and around Savile Row that has seen Grant participate in Fashion Week and the footfall resulting from the arrival of U.S. clothing store Abercrombie & Fitch can only be a good thing for such a traditional brand.
"There isn't anyone in the world who doesn't know Savile Row and what it means," Tillman told Reuters. "You can smell the quality."
GQ's Johnston said that not everyone can afford the handmade bespoke suits fitted for the individual client, which start at 3,000 pounds and rise much higher for individual detail. But the purchase of one could bring life-long pleasure.
"Nothing makes you feel so good," he said. "It's like armor."
(Editing by Steve Addison)
© Thomson Reuters 2023 All rights reserved.