Yoga firm Lululemon: a downward facing stock?
March 21 - As the share price of sportswear retailer Lululemon Athletica Inc heads toward the cost of its trendy $100 yoga pants, some investors wonder if the market darling is heading for a fall.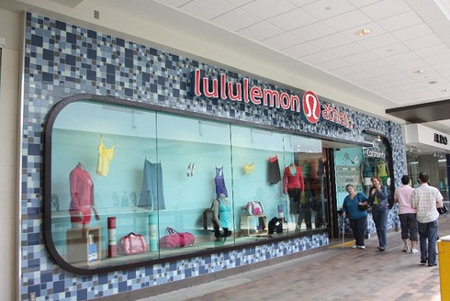 Lululemon store front in Kingsway, USA
The stock was at C$74.50 in Toronto on Monday, more than double last August's 52-week low of C$33.11, but still below last month's record high of C$84.36.
The company boasts impressive growth numbers: revenue rose 57 percent in 2010 after a gain of 29 percent in 2008 and 28 percent in 2009, and same-store sales are up a comfortable 30 percent.
But bears say the current stock price leaves little margin for risk or error, and investors slammed the stock last week after Lululemon said it couldn't keep up with demand and issued a weaker than usual outlook for the first quarter -- perhaps a sign of tougher times to come.
"We believe Lululemon shares are overvalued," Morningstar analyst Zoe Tan said of the company's year-long run-up.
"While the firm may continue to trade at high multiples in the near term, given attractive growth prospects, the current pace of accelerated growth will have to be sustained for a prolonged period for new investors to make attractive return," said Tan, who has a "highly overvalued" rating on the shares.
COPING WITH GROWTH
The stock is now at 38 times forward earnings, compared with 16 times forward earnings for the broader apparel industry.
"With a valuation like this, you expect things to go pretty smooth," said Wall Street Strategies analyst Brian Sozzi, who suggests investors "sell" the stock.
"While Lululemon is doing good, they're starting to experience growth pains that are typical of a retailer in its infant stages."
He said the inventory woes suggest Lululemon has work to do to cope with its phenomenal growth. "The chief risk is execution," said Sozzi, who would consider changing his recommendation if the shares fall below the $67 mark.
Analysts say the competition that follows every success story will eventually catch up with Lululemon, taking a toll on key metrics like profitability per store and gross margins.
Competitors already include big-name brands such as Nike and Adidas, as well as retailers like Under Armour, Limited Brands Inc -owned Victoria's Secret, Kohls, and Gap Inc, which sells yoga wear through its Athleta and Old Navy stores.

"The competition will come from the low end, the high end and everywhere in between," said Marshal Cohen, chief industry analyst at retail market researcher NPD Group.

WORTH THE PRICE

Lululemon's U.S.-listed stock is up 117 percent in the past 52 weeks, while the Nasdaq composite index rose 13 percent.
Analysts who still recommend Lululemon shares say the company has several years of unabated double-digit growth left even before it has to find new markets.
"It's got a very strong growth trajectory, good economics, attractive revenue growth expectations, solid margins and an opportunity for further international expansion," said Mark Schultz, portfolio manager at MTB Mid-Cap Growth Fund, which owns Lululemon shares.
Lululemon has 82 U.S. stores, 44 Canadian outlets and 11 in Australia. It plans to open 30 stores this year.
Schultz said competition was "not an impediment to us investing in the shares." He added: "There's room for more than one producer of yoga gear."
William Blair analyst Sharon Zackfia, who has a "buy" rating on the stock, said it would be hard to replicate the factors that have contributed to Lululemon's success -- design, fit, function, durability of product, and good customer service.
"With a better inventory position in the second half of the year and a re-launched e-commerce site, Lululemon has the potential to continue to post impressive same-store sales gains, despite some of the toughest comparisons in all of retail."

(Reporting by S. John Tilak; editing by Janet Guttsman)
© Thomson Reuters 2023 All rights reserved.