Worldwide major shopping centers' rental values continue to climb
Despite Europe's sovereign debt crisis and a tenuous economic climate, most of the world's largest shopping centers remain quite expensive, with some locations demonstrating marked increases in rental values. That is the principal lesson to be learned from the annual study Main Streets Across the World published recently by the international commercial real estate brokerage company Cushman & Wakefield. "Eighty-one percent of the 278 locations analyzed in 63 countries have shown either growth or consistency in their rental values, versus 66% in 2010", says Christian Dubois, Partner at Cushman & Wakefield France.

For the specialty firm, several factors had played a role, such as the end of the crisis and the rapid economic growth observed in late 2010/early 2011, which had precipitated a high demand and an accelerated pace of new shops opening.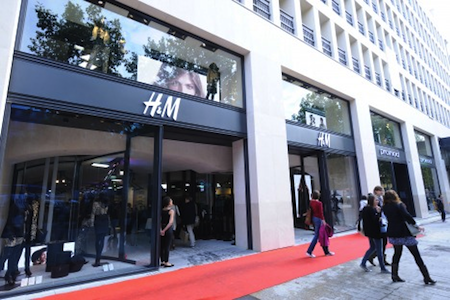 The opening of H&M on the Champs Elysées has no doubt contributed to rising rental values on the avenue (photo Pixel Formula)
Cushman & Wakefield notes however that, just like last year, these developments have been enjoyed primarily by the world's great commercial centers. "They continue to benefit from the retailers' desire to limit risks associated with opening a store and take advantage of the visibility that such a location offers," notes Cushman & Wakefield. The firm thus notes the growing gap between the prime locations and all the rest.
This accentuation in 2011 of the trends first observed in 2010 has not affected the ranking published by the firm.
New York's Fifth Avenue still leads by a wide margin with rental values of 16,704 Euros ($22,964)/m2/year (+21.6% compared to 2010). Hong Kong's Causeway bay is next, at 14,426 Euros ($19,832) (+16.7%). Followed by Ginza in Tokyo, with 7,750 Euros ($10,654) (+8.7%). Rental values at this major hub, therefore, have not been affected by the disaster that struck the country. These three streets were ranked at the same level last year, in the same order. In fourth place, we have Sydney's Pitt Street Mall, with 7,384 Euros ($10,151). The average increase in rental values in this hub is of more than 33%, taking it from ninth place to fourth. The Champs Elysées remains in the fifth place, at 7,364 Euros ($10,124) (+5.3%). Thus, the hexagonal avenue surpasses London's New Bond Street (at 6,901 Euros, ($9,487) +4.3%) and again becomes the premiere shopping thoroughfare in Europe. According to the firm, Europe shows a positive overall change (+1.9%) in its prime rental values, breaking with two years of decline. Some locations, such as Berlin's Tauentzienstrasse, have even experienced double-digit growth (18.2%). Nevertheless, Grafton Street in Dublin and Ermou Street in Athens are in a total slump, in these two countries ravaged by the sovereign debt.
The best streets are to be found in emerging markets. The increase over one year is of 12.2% in Asia Pacific and 10.6% in South America, according to Cushman & Wakefield. Beijing's Wangfujing, for example, has seen rents jump almost 110% on average. In Brazil, Garcia D'Avila street in Rio de Janeiro saw a 52.2% rise. "Rents are rising much faster than the luxury market is experiencing a real boom in some of these cities," Christian Dubois says.
The Real Estate firm is cautious for the time being due to the very real risk of a downturn in the global economy. Nonetheless, according to Cushman & Wakefield, luxury will remain a safe haven. Christian Dubois Christian Dubois also notes the scarcity of available slots on these flagship commercial streets.
($1 = €0.73)
Copyright © 2023 FashionNetwork.com All rights reserved.