Women, jobs push guys to upgrade their style
The need to look good on the job and pressure from the women in their lives are pushing men to take their style up a notch, giving luxury brands some welcome extra business.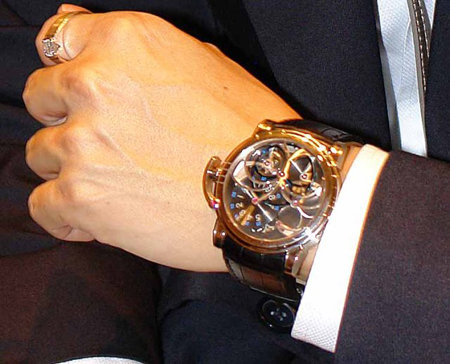 Harry Winston now sells most of its watches to men -- many of which cost more than a quarter of a million dollars.
Upscale brands, from department stores Saks Inc and Neiman Marcus to jewelers Theo Fennell Plc and Harry Winston Diamond Corp are seeing men spend more on themselves, top executives said this week at the Reuters Global Luxury and Fashion Summit.
Part of that is a man's need to look dapper as he makes his way up the corporate ladder, especially now that the job market is getting better.
"The younger consumer is growing into his income-producing years. He is much more attuned to fashion and quality than his father was," said Neiman Marcus Group Chief Executive Officer Karen Katz. "They (men) really are coming in to kind of get their wardrobes back in shape."
Saks is expanding its popular line of private label clothes for men to cater to their whims.
At Saks Fifth Avenue, women outspend men by a ratio of nearly three to one on clothes and shoes, and Saks Chief Executive Steve Sadove does not expect that ratio to change much.
Still, men are dressing up, he said. "We're seeing strength back in tailored clothing again," he said.
For many men, fashion savvy is not ingrained, and a big part of this rising fashion awareness comes from wives, sisters, mothers and girlfriends nudging and reassuring their men.
"If you can provide an excuse for a not-so self-assured man ... and there are enough photographs of Brad Pitt or someone like that wearing it, then they think they can wear it," said upmarket British jeweler Theo Fennell.
But for men, the practical use of a piece of clothing or jewelry outweighs aesthetic considerations.
"The male consumer is not as discerning as his female counterpart," Coach Inc CEO Lew Frankfort said. "Men are looking for well-made products that are functional."
Coach opened a men's store last year in New York's Greenwich Village and said that demand for its leather wallets and messenger bags has prompted it to open two more men's stores, one in New Jersey and the other in Boston, in the next few months.
Harry Winston now sells most of its watches -- many of which cost more than a quarter of a million dollars -- to men, something its CEO, Frederic de Narp said was "extraordinary."
The rise of China's luxury spending will boost men's share of the global luxury pie by virtue of the fact that men in China account for twice as much of that country's high-end spending than men do elsewhere, largely because of the tradition of gift-giving.
China is the fastest growing market and is expected to eclipse Japan in the next few years.
Still, luxury remains a woman's world, by all accounts.
"Men have started to indulge themselves but women are still the core customer of luxury," said Marc-Andre Kamel, the Paris-based head of consulting firm Bain & Co's luxury practice for Europe, the Middle East and Africa.

By Phil Wahba
(Additional reporting by Mark Potter in London and Antonella Ciancio in Milan; Editing by Gerald E. McCormick)
© Thomson Reuters 2022 All rights reserved.