Will mild winter mean summertime blues for retailers?
With the meteoric jump in shares of Apple Inc and turmoil in the bank sector garnering the spotlight in recent months, one group managed to fly under the radar despite strong gains - retailers.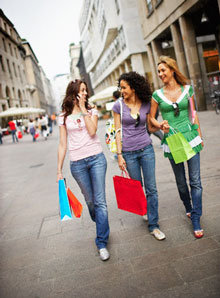 Photo: Corbis
Since hitting a 13-month low in early October and flirting with bear market territory, the S&P 500 .SPX has risen 17.2 percent. During the same time frame the S&P retail index .RLX has climbed 22.6 percent.
The gains were supported by a confluence of events: improvement in the domestic economy, a mild U.S. winter and a form of economic Darwinism that left stronger retailers intact after the recession.
The mild winter may have helped retailers in the first quarter, but may work against them in the second quarter, if consumers who spent more than they anticipated are forced to pull back.
Sales at U.S. retailers barely grew in April, indicating consumer spending may be losing steam. Home Depot, the world's biggest home improvement chain, for one, said this week that growth slowed in April after the warm winter boosted spending.
"I can't definitively say that I am worried that the weather pulled ahead the spending, but the weather has gotten them up and out shopping, so I don't know if this is going to continue forever," said Kim Forrest, senior equity research analyst at Fort Pitt Capital Group in Pittsburgh.
The latest monthly same-store sales results would seem to bear that out, with several large retailers missing expectations for April.
Data for March showed consumer spending rose only 0.1 percent when adjusted for inflation, even though income rose the most in three months, indicating consumers were putting away more of their cash.
"The thing that really jumped out on me on the personal income was the income growth had slowed on a year-over-year basis for four straight months - so I wasn't excited about seeing that," said Scott Armiger, portfolio manager at Christiana Trust in Greenville, Delaware.
The recent strong performance of shares of discount retailers Family Dollar Stores Inc, Dollar General Corp and Dollar Tree Inc, which performed well during the recession when shoppers hunted for bargains, is another sign investors are shifting their portfolios ahead of the slower summer months.
Since March 31, as the S&P 500 has weakened, those discounters have done well. The S&P is down 6.6 percent in that time, but Dollar General shares have risen 0.5 percent, Dollar Tree has climbed 2.8 percent and Family Dollar is up 3.1 percent.
Shares of Wal-Mart Stores Inc, the world's biggest retailer, were up 5 percent on Thursday after it reported strong quarterly results, including a rise in U.S. same-store sales.
The recession also forced retailers to sharpen business practices, with weaker players either falling by the wayside through bankruptcy or being gobbled up through acquisitions, with the bankruptcy of electronics retailer Circuit City perhaps being the most notable.
More recently on the M&A front, Bed Bath & Beyond Inc agreed to acquire smaller competitor Cost Plus Inc.
GAS PRICES FALL
Should the recent economic slowing prove to be more a blip on the radar than the start of a trend, investors may be able to take advantage.
The recent decline in gas prices gives consumers more disposable income, which may help retailers during their leaner sales periods.
"If we get any kind of pop, any kind of economic growth or some help for the consumers - a nice drop in gas prices - they will do very well," said Armiger.
An economic improvement in the back half of the year would also dovetail with the two biggest selling periods for retailers - the back-to-school and Christmas holiday seasons.
"Do I think the consumer is going to roll over and die forever? No," said Phil Orlando, chief equity market strategist at Federated Investors in New York.
© Thomson Reuters 2023 All rights reserved.