Weather and tax rebates seen aiding June retail sale
By Aarthi Sivaraman
SEATTLE (Reuters) - U.S. retailers, led by the discounters, are expected to post slightly better June same- store sales this week, thanks to seasonal weather and rebate checks that have made their way to cash registers, mostly for basic items such as gasoline and food.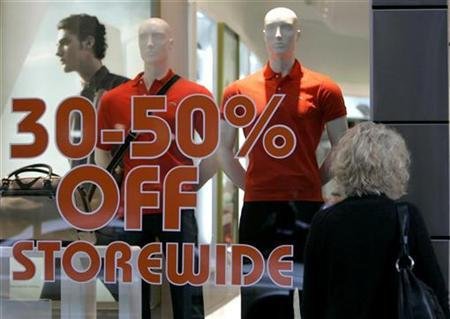 On average, analysts expect June same-store sales, which normally track sales at stores open at least a year, to be up 2.7 percent, compared with a 2.4 percent increase last June, according to Thomson Reuters data.
Discount retailers are seen as bright spots, with analysts expecting an overall same-store sales increase of 4 percent.
While Wal-Mart Stores Inc is expected to post a same-store increase of 3.9 percent, sales on that basis at wholesalers such as Costco Wholesale Corp and BJ's Wholesale Club Inc are forecast to jump 8 percent and 9 percent, respectively.
That points to the continuing trend of consumers consolidating shopping trips, while at the same time spending the lion's share of their shrinking discretionary income at gas pumps and in the food aisles, rather than on less critical items such as clothes or furniture, as they battle sky-high fuel prices, costlier food and the weak housing market.
"Economic stimulus checks ... likely boosted sales at value retailers and gas stations," Lazard Capital Markets analyst Todd Slater wrote in a note.
Also pointing to strength at discount stores, Goldman Sachs analyst Adrianne Shapira said: "The key characteristics of retail winners in today's challenging backdrop are those with value-based consumables ... and a strong handle on inventory and costs."
Shapira cited the example of Family Dollar Stores Inc, which raised its expectations for June to a 6 percent gain from its previous forecast of a gain of 2 percent to 4 percent.
A 20-city survey "confirmed that economic stimulus checks are finding their way to the registers; albeit the lift appears temporary and consumables driven," JPMorgan analyst Charles Grom said in a note to clients.
Those rebate checks, Goldman's Shapira said, could have also helped department stores, which are expected to post an overall decline of 2.6 percent in June same-store sales, Thomson Reuters data showed.
June sales are expected to rise between 2 percent and 2.5 percent, according to the International Council of Shopping Centers.
While same-store sales are expected to drop 18.4 percent at Nordstrom Inc, which moved its half-yearly women's and kids' sale to May from June; J.C. Penney Co Inc and Kohl's Corp are expected to post increases of 0.7 percent and 0.4 percent, respectively, according to Thomson Reuters data.
"We see upside surprises on tap for Kohl's and JC Penney in June as both retailers benefit from favorable weather conditions relieving pent-up seasonal demand in the month," Shapira wrote.
HEATING UP
The weather, which started warming up after an unusually cool May, helped sales of seasonal items, analysts said.
But apparel retailers would likely continue to face lackluster sales, as costs for day-to-day items increase and force shoppers to spend more on those products.
Overall, analysts forecast same-store sales declines of 3.2 percent for apparel retailers.
Among apparel chains, "retailers catering to the missy shopper are expected to fare worst," S&P retail analyst Marie Driscoll said in a note, pointing to stores such as Chico's FAS Inc, which sell to older women.
Same-store sales at Chico's are expected to fall 13.8 percent in June, while Gap Inc sales are expected to fall 10.9 percent and American Eagle Outfitters Inc's sales look to be 9 percent lower.
"Promotions helped retailers move through summer clearance inventory, although rising fuel prices helped keep traffic low at the malls as consumers made fewer shopping trips," Needham & Co analyst Christine Chen said in a note.
Chen added the warmer weather and promotions would help retailers clear inventory in time for the back-to-school season, which retailers hope will boost sales. Investors and analysts will focus on the performance of retailers during that season, when picky teenagers become the key shoppers.
Retail stocks in the Standard & Poor's Retail index are down about 13 percent since retail companies posted May same-store sales. The overall S&P 500 index, in comparison, is down a bit more than 10 percent.
(Editing by Andre Grenon)
© Thomson Reuters 2022 All rights reserved.