Weary of old wardrobes, women buying clothes again
By Alexandria Sage - Analysis
SAN FRANCISCO (Reuters) - Shop 'till you drop it's not, but U.S. women are finally starting to buy clothes again.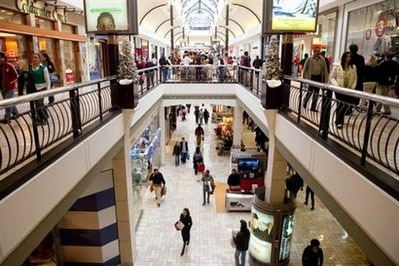 Photo : Brendan Hoffman/AFP
Even before the U.S. economy headed south over a year ago, many U.S. women eschewed clothing purchases for themselves, given tight budgets, a clampdown on credit limits and merchandise that offered little dazzle.
That trend grew stronger as recession took hold and unemployment began to rise. But slightly better consumer confidence, good bargains and improved fall fashions have more women looking through their closets and realizing it's time to replenish.
"After two years, she's saying, 'Finally, I need a few things for myself!'" said Lisa Walters, a principal with research and consulting firm Retail Eye Partners.
Retailers from Nordstrom Inc (JWN.N) to J.C. Penney Co Inc (JCP.N) and Chico's FAS Inc (CHS.N) have noted stronger apparel purchases by women in recent weeks.
It's a welcome, albeit modest, step in advance of the holidays after a disastrous year in which most U.S. women curtailed shopping on clothing for themselves. Those with children often put shopping for the family first, and their own wardrobes second.
Cooler weather and trend-right apparel items are helping. Boots, leggings, skinny jeans and a return to cozy plaids and tunics have fueled the need for wardrobe updates.
"She's back in the mall but not buying probably as much," said Walters. "We have seen a resurgence in shopping over the past two months. Back-to-school got moms back in the mall, and through September and October women came back to the mall for fall (wardrobe) updates."
Industry experts characterize the trend as an uptick rather than a rebound, particularly since year-ago sales were drastically low.
Ed Yruma, an analyst with KeyBanc Capital Markets, explained the dynamic: "Is the female shopper out in full force? No. Is she shopping more than last year? Yes."
SHOPPING FOR HERSELF
Many consumers have adapted to the realities of a tighter budget after a year of cutting back, so they are more willing to spend judiciously when something appeals to them, analysts say.
"You have a consumer who spent 12 months paying down credit card debt, increasing her saving rate and forgoing consumption. Everybody backed off," said Stifel Nicolaus analyst Richard Jaffe.
"Here we are 12 months later ... the bottom is in sight regarding our economy and Christmas is coming -- obviously a big motivator for selling," he said.
According to a recent survey from the National Retail Federation, some 62 percent of women plan to buy clothing or clothing accessories this holiday season. That's better than the 60.7 percent last year but still below the 62.4 percent seen in 2007 and the more robust 67.2 percent in 2006.
J.C. Penney Chief Executive Myron Ullman told analysts earlier this month that women were increasingly buying clothes.
"While the environment is still tough, the third quarter also reflects something very important -- the resilience and continuing growing appeal of our women's apparel business," he said.
Some retailers, such as Urban Outfitters Inc's (URBN.O) Anthropologie chain and J Crew Group Inc (JCG.N) are already on a roll, having posted higher sales in recent quarters, fueled by their differentiated products and loyal customer base.
At the same time, others are fixing self-inflicted merchandise issues that have long dogged them. Chico's on Wednesday 18 November posted better-than-expected profit and a 13 percent sales rise in what one analyst deemed a "blowout quarter."
The company has reversed a longtime sales decline by making its clothing less matronly and trying to appeal to women with style.
Moreover, a focus on women between the ages of 40 and 50 is helping Chico's, Walters said. Older baby-boomers age 60 and above, whose retirement savings have been hurt by the downturn, are still not in a position to spend freely.
Despite the hints of a comeback in women's apparel sales, the big unknown is what happens in January.
"That's the big question -- that's what investors are starting to grapple with. Nobody really knows what the demand outlook is for 2010," said Yruma.
And if stores fail to offer compelling spring merchandise in the winter months after the holidays, women could easily return to their "non-shopping mode," Walters said. She expects the January-to-March period to be "pretty tough."
(Reporting by Alexandria Sage; editing by John Wallace)
© Thomson Reuters 2023 All rights reserved.